Dean Barley leads Tadano America
By D.Ann Shiffler31 January 2022
Recently appointed Tadano America president and COO discusses his new role and the OneTadano strategy.
Long before Tadano acquired the Demag Cranes brand from Terex, Dean Barley had his eye on the company. He was impressed with the product line and its reputation for quality. When he went to work for Tadano as a part of the acquisition, he quickly became a leader in the transition of blending the two company's people and product lines.
Barley was recently named president and chief operating officer of Tadano America, assuming the role from Ingo Schiller, who is now Tadano's chief marketing officer. Barley's ascension through the leadership ranks has been quick and measured. He already had the trust of the Terex and Demag customer base, and it didn't take long for him to earn the respect of the Tadano loyalists. Barley attributes his rise in the crane industry to "good old-fashioned hard work."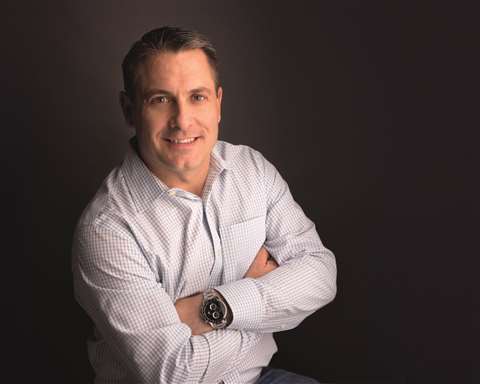 He got into the business by washing equipment to earn money while still in high school.
"I may have shared this before, but we did not have a great deal of money back then," he said. "My first paycheck bought my mother a pair of shoes. We did not have a lot, but she really stood behind me in everything I did."
The same company whose equipment he washed later sponsored him to go to engineering college. He has a debt of gratitude to that company. After college he worked for them a couple of years as a mechanic and later ran their service operation. In 1996, he joined a manufacturer based in England where he assisted in the design, service and sales of a soil compactor line.
All about the people
In time he would return to the United States and take a job at Terex Corporation, where he worked for more than 15 years, rising to the position of vice president and general manager of Terex Cranes.
Barley likes the crane business for a lot of reasons, but mainly, it's all about the people.
"There are some really good people in the crane industry," he said. "I like the adrenaline rush you get from seeing a crane go into service and seeing the complexity of the jobs. Once you get cranes in your blood, there's no going back."
I have met Dean several times through the years, at various Terex events and trade shows. He is a smart, articulate and engaging person, and also genuine and caring. Since the pandemic I haven't really talked to him, so it was nice to catch up with his answers to our questions.
Tadano acquired Demag in February 2019 and the deal was finalized in August 2019. What was your role during the transition and the process of blending the two company's people and product lines?
I came to Tadano from Terex as a part of the Demag acquisition in mid-2019. To assist in the transition, I was in charge of Demag sales for the Americas, as well as part of the integration team at Tadano America. When we integrated into one entity, I became responsible for customer service – parts, service, warranty – as well as helping lead sales operations for Latin America.
Then my chief responsibility [became] oversight of the Demag sales team in the Americas. I was also part of the Americas leadership, which was responsible for integration in the region. This meant working with both Demag and Tadano teams to lay the foundation for a unified customer experience. We worked hard to combine synergies to establish a cohesive and efficient operation that would continue to provide our customers with the best cranes in the industry and ensure top quality service without interruption during the transition.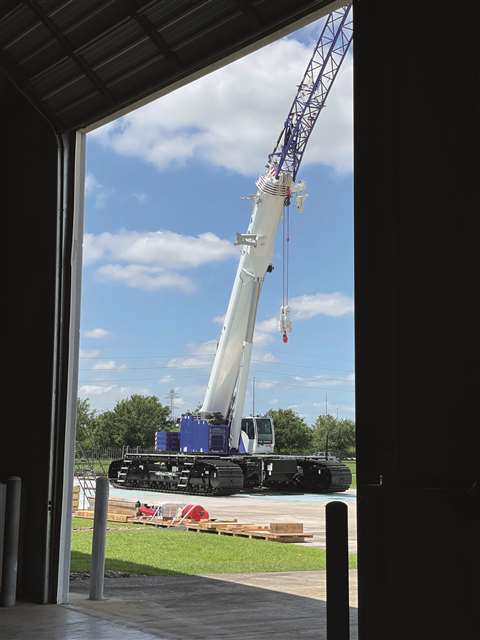 What have been the biggest challenges for Tadano during the pandemic?
We have really made the most of a bad situation. From the very start, even before we faced the real challenges, we decided to invest in parts inventory to limit issues for our customers. Looking back, this investment was a great move. Our parts performance is better today than it was two years ago.
To add to this, we invested in a new parts warehouse in Houston, a new call center, added technology to manage and work remotely, while helping balance the workload for our team. Late last year we also relocated our Tadano telecrawler parts business to Houston to improve our logistical performance and allow a consistent face and process for our customers.
If we had not taken this additional inventory on, we would have faced fierce logistical challenges. We had to adjust our planning model to make it more robust; planning for inventory today is different than it was two years ago, both for equipment and with parts.
However, we are no stranger to what's going on in the rest of the world. We feel logistical cost increases, and we feel material costs increases, but we are trying everything we can to mitigate these for our customers. Overall, we've mitigated these challenges the best we can, although we, like most others, still face some logistical issues and higher transportation costs.
What are the particular challenges that Tadano, and all crane companies for that matter, face in today's market?
The greatest challenges our industry is facing at the moment are component cost increases, equipment availability and a spike in demand from a depressed market. After two years of great economic uncertainty, customers are seeing signs of a recovery and are placing new orders they held off on pursuing in 2020 and 2021.
Trying to get suppliers to meet this demand is, like with many other manufacturers, Tadano's biggest challenge. We're only as good as our suppliers and if Covid-19 shuts down our suppliers, then we experience delays.
Have supply chain problems impacted Tadano's delivery of cranes? What are the biggest issues in terms of supply chain?
Absolutely. But it's not just the supply chain. It's also logistical issues. Shipping costs have risen significantly, and maritime transportation continues to face bottlenecks.
What led to your new role as President and Chief Operating Officer? How did it all evolve?
Tadano has entered a new era under its OneTadano strategy, and we continue to grow and evolve as a business globally. There was an opportunity to continue to build the business and simultaneously another opportunity to fill the chief marketing officer position to expand Tadano's global marketing footprint. Tadano wanted marketing at a corporate level from an industry veteran who knows cranes inside and out. Ingo Schiller was the perfect leader for that position.
How do you characterize the market for cranes globally? In North America?
Globally the crane business is improving. Businesses were sluggish for a while given the market conditions, but we are now starting to turn the corner as an industry. This has created a surge in demand that is being fueled not only by projects for this year, but also from the past two years when customers held off on major capital investments among the economic uncertainty. All of this is hitting at once right now. Overall, business for the industry is looking positive.
In North America in particular, we see the infrastructure plan as being a major catalyst for the crane market. The demand for renewable energy continues to grow and that is presenting a tremendous opportunity for the crane industry to not only empower that market, but to also provide the tools to pursue further excellence for the world and the future, as Tadano's corporate philosophy prioritizes.
What are the current priorities for Tadano?
Let me start out by saying I always watched Tadano from afar when I worked for Terex. Their products, especially the quality, always interested me. Today, I can say that our products are even better than I could see when looking from the outside. Combine outstanding reliability, excellent residual values, superior support systems and an awesome team, and that's Tadano.
We have worked hard to build a solid foundation over the past two-and-a-half years after the acquisition of the Demag business. We now have the platform and the products to take our business to yet another level in the years to come – OneTadano. We will continue to strategically invest and grow.
Tadano's core values will remain the key to our success: compliance plus safety, quality and efficiency. These will ensure we are a consistent performer in the lifting business. Combine these with Tadano's long-term vision and consistent progress to what our industry desires from a manufacturer will lead to the success for the users of Tadano products.
To me this business is simple – it's all about taking care of customers. There is no strategy to this: just do what you say and say what you do.
Do you envision changes to the way cranes are sold in North America?
Tadano follows a hybrid model in which we go to market today with strategic key account customers and through our distributors. Our intent is to leverage distribution in combination with our own support. There is tremendous value to be had when you combine your own sales with your distribution base to support you.
However, we do see the market changing, especially with the recent inflation, which is one of the reasons why we partnered with DLL in May 2021 to offer financing to our customers. This is yet another tool for our customers to help satisfy their needs.
Tadano made the decision to consolidate all its brands under the Tadano name. How has this been received by customers and distributors?
The response has been nothing short of positive. Our customers have praised the move and are excited for what's ahead. We owe this to how simple we made it and how easy it is to understand. As we approach the one-year mark of announcing Tadano's brand alignment and integration, our customers and distributors have experienced first-hand the greater efficiencies that resulted from the combination of technologies, design philosophies and best practices from two legacy brands. This is one of the keys of the OneTadano strategy.
What is perhaps more exciting is that we are still in the early stages of this plan. We are on track to bring a host of new crane models to the market in the next few years, and we are thrilled at the direction the company is headed.
Service and tech professionals are in short supply in the united states. How does Tadano America fill its staffing needs?
It's an aggressive hiring market right now, but many service and tech professionals are drawn to Tadano both for its products and because we offer an exceptional environment to work and thrive, both personally and professionally.
Tadano is filling this demand twofold. We've got our workshop operation that is a breeding ground for field service technicians, and we have a call center that is a breeding ground for service techs. We are constantly looking to add the right service individuals to our business. Not a day goes by when I wouldn't look at a resume with a service tech on it, and that's not going to change for a long time. Additionally, we are investing heavily in training in 2022 for both our own team, as well as our customers and distributors.
How would you characterize Tadano's product development process? What are the differences between the cranes marketed in North America and those marketed globally?
Tadano has a rigorous development process that relies on global collaboration among our engineers in the United States, Germany and Japan, and a constant channel of feedback from our customers. Every market has its unique demands, and Tadano works tirelessly to accommodate the needs of each market we serve. We want to provide our customers with the best-performing and longest-lasting product that will reliably serve their needs for years to come.
The first big product launch event will be Bauma in October 2022. Do you envision many product launches from Tadano?
Absolutely! We are on track to launch a host of new crane models in the coming years, and I couldn't be more excited for what we have in store for the market.
With Bauma and ConExpo just six months apart, what product development considerations have been made to be able to roll out cranes for both shows?
There will be a real show of force from Tadano at both shows. I don't think we've disappointed our audience in the past few years, and these two shows will be no different.
What is your business philosophy?
To me this business is simple – it's all about taking care of customers. No strategy to this, [as I said] just do what you say and say what you do.
To make sure we are achieving this goal, I rely on our metrics. It's all about metrics. I measure almost everything. If you can't measure, how do you know you will get it better? I always ask the question: is this metric helping the business and the customer? If it's not helping the business and/or the customer, you probably don't need it.
I also follow Tadano's core values of safety, quality, and efficiency based on compliance (C+SQE). Each and every one of our products and services encompass these values to reinforce our continuous pursuit of excellence for the world and the future through high-quality lifting equipment.
What do you do when you are not working?
I don't get a lot of this, but when I do I love to spend time with my family. I have a wonderful (and understanding) wife and two great children at home. We've made our home just outside of Dallas and we enjoy RVing and spending time in the outdoors. Before you ask, it's been a while since I had a break thanks to the challenges that came from our new Covid world.