Demand for anti-entrapment name change
By Euan Youdale07 May 2013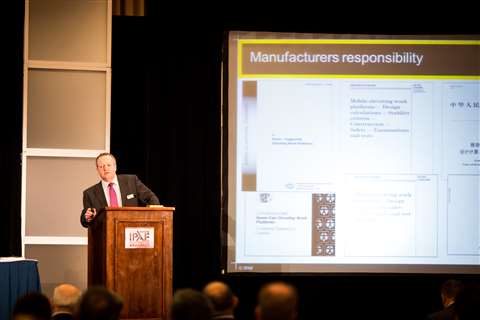 Chris Wraith, IPAF technical officer, has publically called for 'anti-entrapment devices' to be renamed as 'secondary guarding systems'.
He argued that the term anti-entrapment sends out a misleading safety message that could have fatal consequences.
Mr Wraith first made the demands at the IPAF Summit, held in Miami, US, in April. Following the Summit, he told AI that the term anti-entrapment was too generic and in many cases suggested a level of safety that doesn't exist.
He added that there was now too much focus on so-called anti-entrapment euipment, when there were other pressing issues like electrocution, overturning and falls from platforms, that should be considered.
"Machines are safe by design and manufacturers are governed by many different standards, including ISO and ANSII. For example you have the ANSII Manual of Responsibilities which states it is important that there is supervision of staff."
Mr Wraith noted that none of the standards specifically refer to anti-entrapment solutions, and until one is written manufacturers and users were not in a position to create such devices with a view that they were somehow covered legally.
He added, "In many cases people are already in a crushing situation before the devices work, so they are not really an anti-entrapment device. We should drop those words and call them secondary guarding systems. We should not even call them a safety system, as one is already installed into the device. And they all provide different solutions for different risks; there is not one that will save you from entrapment all the time."
Another problem comes from some users creating their own anti-entrapment-like solutions and thinking that they have their own effective system. "But in the eyes of the law they may be significantly modifying the machine. So they need to seek manufacturer's advice and approval before they do it."
Mr Wraith added, "If you asked manufacturers which devices they recommend there would be very few. Before you have secondary guarding you must have all the information and guidance in place. Secondary guarding is like PPE; it should be a last resort."