Development of 3D printing continues
By Andy Brown11 September 2019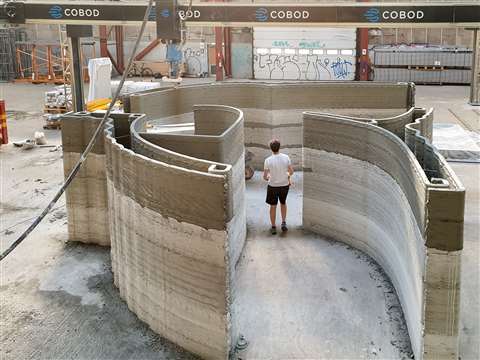 What is said to be one of Europe's first 3D printed buildings, the BOD, took the company COBOD two months to print in 2017 – the building was recently reprinted in three days.
COBOD says that this difference in timescale shows how much 3D printing technology has developed. The building was reprinted with a second-generation 3D construction printer.
Henrik Lund-Nielsen, CEO of COBOD, said, "We have said time and time again, that this technology has great potential, is developing very fast and that there is still so much to be learned to fully utilise this technology."
To 3D print a building, or more precisely to 3D print the walls of a building, requires not only a 3D construction printer, but a concrete mixer-pump that can deliver the print materials to the printhead of the printer and a suitable recipe for the print materials.
According to the company, for an optimal print of speed and quality all three items have to work at a high level.
For the re-print, COBOD reported that they asked the supplier to reduce the setting time of the concrete too much by mistake. This caused a delay until they were able to vibrate the materials in the hopper regularly.
When that was done on the third day of printing, the productivity doubled from printing 10cm of the building per hour to 20cm on the last day.
Printing of 20cm per hour would enable the 3D printing of a 2.4m storey building in approximately 12 hours.