Dewsbury & Proud adds Grove
By Laura Hatton21 January 2015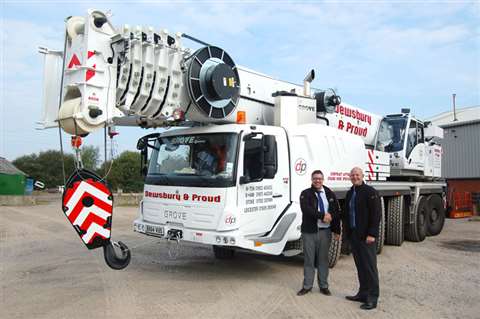 UK crane rental company Dewsbury & Proud has added a Grove GMK5130-2 all terrain crane to its fleet.
The company operates 35 Grove cranes. The new 130 tonne capacity model has a 60 metre main boom that can be extended to 92 m when configured with an hydraulic luffing fly jib. For ease of transport it can travel, with full counterweight, with just one additional truck, the manufacturer said. The GMK5130-2 is the second of its kind to join Dewsbury & Proud's fleet in the last twelve months.
Tim Proud, Dewsbury & Proud managing director, said, "Grove cranes are tried and tested work horses that we know will work hard and always perform. Our cranes are out working on different job sites across the Midlands every day of the week, and as a taxi crane company we need cranes that are easy to transport and quick to set up. Dewsbury & Proud will continue to buy Grove because of their competitive prices, exceptional aftercare, and reliability."
The crane was put straight to work and at the time of writing in January was helping with the construction of a sports complex at the University of Birmingham, UK. Jobs for the all terrain include lifting general construction materials, including pre-cast concrete, steel formwork, shuttering, concrete skips, and wall cages.
The sports complex will include an Olympic-sized swimming pool, 12 badminton courts, six squash courts, a climbing wall and two state-of-the-art gyms, a spokesperson said.