Dingli presents new booms and factory plans
By Euan Youdale23 November 2016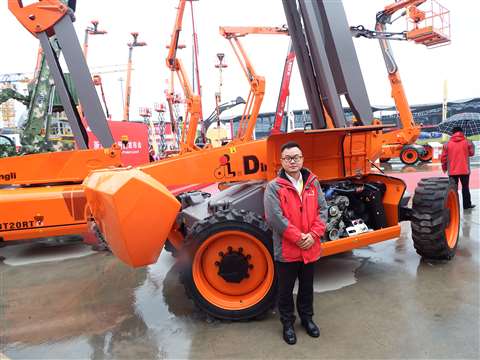 Dingli launched its new series of booms from its arrangement with telehandler specialist Magni at Bauma China.
Xu Shugen, chairman of Dingli, told AI the eight new articulated and telescopic booms reflected a new design concept, and said a new factory would be built specifically for the new booms' production in China.
The 28m working height BA28RT articulated and BT28RT telescopic are the biggest in the range, with 24m, 20m and 16m working height machines filling out the rest of the two categories. The 28m and 24m machines come with jibs.
They have been designed in Dingli's research and design centre based at Magni in Italy, which was set up after Dingli acquired 20% of Magni earlier this year.
Each machine has a Deutz Euro IV compliant engine, with common components across all of them. They have been designed for mature markets like Europe and North America and provide a unique counterweight design that is 1.2m lower than the manufacturer's previous booms with all major components, engine etc., placed below the chassis.
This provides a 10%-15% lower weight across the range and greater outreach. For example, the BA28RT weighs 16.1 tonnes and has an outreach of 18.3m. Platform capacity is 350kg. All machines have four wheel drive and steer.
The new factory will cover 210,000 square metres, costing US$150 million, and will be ready in 24 months. The company said it expected to produce around 2000 booms there each year.
Dingli will continue to design and produce its existing booms for developing markets like China.