Dingli sets out expansion plans
By Euan Youdale14 July 2015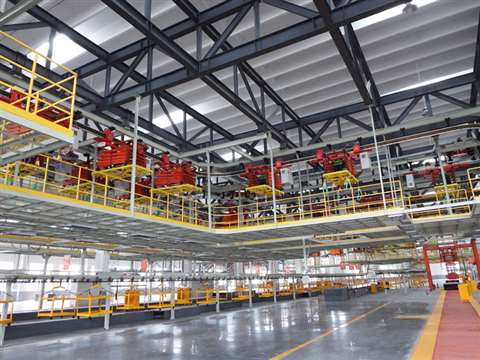 China-based Dingli is set to start production in a new 83000 square metre factory in August and says its recent IPO will provide an opportunity to merge with or buy another access equipment company, likely in Europe or North America.
The manufacturer said its revenue for 2014 was CNY 537.6 million (US$86.6 million) and the new plant's capacity would allow revenue growth of 30% each year.
Based in Hangzhou, the same city as the manufacturer's existing factory, it is based on a total area of 120000 square metres and includes a large covered outside testing zone. Inside the facility is a state-of-the-art automated scissor assembly line, including all processes through to painting.
A major focus in the factory will be an increase in the manufacturer's boom assembly. At the moment scissors make up about 90% of the aerial work platforms used in China but that is set to change.
Speaking through an interpreter, Xu Shugen, Dingli chairman told AI, "China is at an early stage but we believe the development of rental in China will change that situation". According to Mr Shugen the number of self propelled booms working in China will increase to 30% of the total AWP sector, in line with more mature access markets, over the next four to five years.
Dingli is also launching new boom products designed to work in all climates from the heat of South East Asia to the sub-zero environment of Russia. A new range is the SI range, with the 20 m working height GTBZ20SI, 24 m GTBZ24SI and 28 m GTBZ20SI telescopic booms. They are desigend for easy transport, longer outreach and larger working area and offer a maximum working angle of 6 degrees.
Speaking about the company's launch of its initial public offering (IPO) on the Shanghai Stock Exchange Main Board in March, Mr Shugen said it would provide the company with more cash flow and opportunities for investment and expansion across the world, including in South East Asia which is a huge emerging market for powered access.
The Chinese government's investment in its One Belt, One Road initiative is aimed at creating better road and rail connections with Eurasia and creating financial stimulus plans with these regions. This, said Dingli, fits in well with its focus on South East Asia as an emerging market where it is looking to set up sales offices and other enterprises.
Currently, 50% of Dingli's products are exported. This ratio will not change, said the company, with sales domestically and abroad expanding at the same rate. However, its export strategy is at the moment focused on three main countries: Japan, Germany and the United States, with 20% of export now directed at those three nations.
On the subject of Europe and North America, Mr Shugen said he had spent 10 days in the USA and another week in Italy talking to people in the access industry. He added, "Talking about Europe and North America, we will possibly buy a company and set up a research and design centre in one of those countries in the future."