Dinolift distributor deal with Time Danmark
By Euan Youdale31 October 2014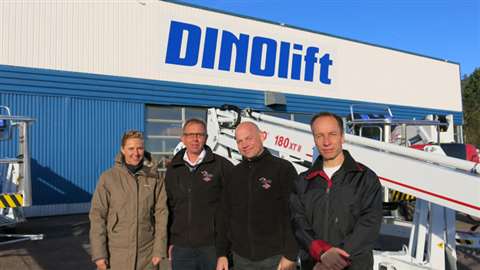 Dinolift has appointed Time Danmark as its new distributor in Denmark.
Time Danmark will be responsible for sales and after sales support of the complete Dino range.
There is great potential for Dino trailers in Denmark as well as its self propelled machines, said the manufacturer, mainly the RXT articulated boom with outriggers.
"We are very much looking forward to starting up cooperation with Time, and we feel confident that this partnership will be successful," said Dinolift's Karin Nars.
Time Danmark, a subsidiary of US-based Time Manufacturing Company, produces Versalift vehicle mounsts and distributes several brands.
Time Danmark will present the Dino range during a comprehensive road show, 3 to 14 November.
"The cooperation with Dinolift greatly expands our range of self propelled boom and spider lifts and even fills in a gap in our portfolio with the addition of trailer lifts," said Axel Rask, Time Danmark.
Dinolift, wich also produces tracked mounted platforms, celebrates its 40th anniversary this year.