Dinolift launches boom with telehandler capabilities
By Euan Youdale13 July 2015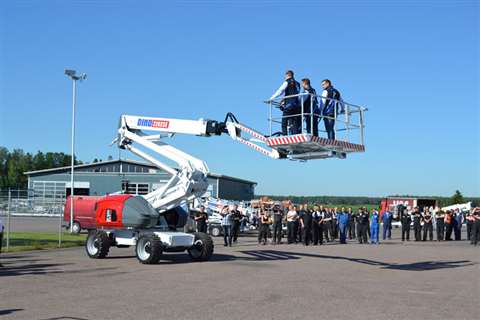 Dinolift has launched a new boom. The Dino 220XSE has a 350kg basket capacity and can be used as a telehandler.
The completely new 22 m working height boom lift has an extra large basket to carry more people and tools in the entire working envelope. Apart from being a fully functional heavy-duty work platform, the Dino 220XSE also performs as a remotely operated telehandler with a lifting capacity of 500 kg. The basket is mounted on the boom with forks that feature a safe, quick-release mechanism.
The 1.3 m x 2.4 m basket can accommodate three persons and can also hold a full size pallet inside. There are two entry gates, one for the operator and the other for a pallet.
Boom rotation is continuous, while basket rotation is 180⁰. Important safety features include the manufacturer's intelligent driving system, which means the lift will always drive forwards when the joystick is in forward position. Furthermore, the 220XSE comes equipped with a mechanical anti-crushing device to prevent crushing from overhead obstacles.
When the basket is detached, the machine can be used as a telehandler with a 500 kg lifting capacity. It is then operated by cable steer at a safe distance from the machine but with a good view of the lifting load.
"Dino 220XSE is an innovative way to expand our boom lift range. The extra large basket size and capacity enable our customers to improve their productivity by longer working cycles. The customer gets a familiar, safe and easy-to-use Dino work platform but in addition with telehandler capabilities. This further increases the usability of the machine, it means you're getting two machines in one," said Karin Nars, Dinolift sales director.