Do OEMs have a moral obligation to stop machines being used for illegal activity?
By Neil Gerrard22 May 2023
Hyundai Construction Equipment found itself in the headlines last month after a Greenpeace report found that some of its machinery was involved in the destruction of Brazilian rainforest.
The environmental action group called on the South Korean OEM to prevent its machines from being used in illegal mining and environmental operations.
It found that an authorised reseller of Hyundai equipment had a dealership close to indigenous territories in the region where the illegal mining is occurring.
And it urged Hyundai to set an example, arguing that it can prevent its equipment from operating in prohibited locations by activating existing tracking technology within the machines.
Hyundai CE, which has previously won plaudits for its environmental, social and corporate governance commitments has since pledged to stop selling heavy machinery in the Brazilian states of Amazonas, Roraima and Para until it can toughen its compliance. It has also terminated its business relationship with sub-dealer BMG, which was the company dealing with the illegal miners (see statement below).
Clear moral responsibility
But the news raises the question of whether OEMs have a moral obligation to stop their construction machinery from being used for illegal activity or environmental destruction.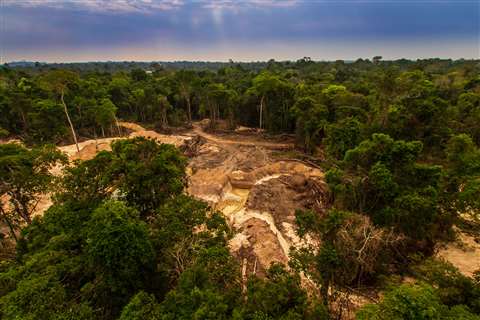 Benjamin Atkinson, public relations manager at specialist PR firm Igniyte, which helps businesses improve their reputation and issues with negative perception, argues that OEMs should focus on strong environmental, social and governance (ESG) policies in order to preserve their long-term reputation.
"There's a basic humanitarian and moral obligation," he says. "I am of the opinion that not only is it good for marketing but it is good for the planet. And these issues will only get worse as resources become more scarce."
It's a view that Marianna Fotaki, professor of business ethics at Warwick Business School shares.
"There is not only a moral obligation but companies are obliged not to aid illegal activities," she says.
"The extractive mining that is happening in areas like the Amazon, Latin America, and sparsely populated areas of the global north is beyond any standards of sustainability. And there is also a social impact on communities."
What next?
But if the moral argument is clear, what about the practicalities? OEMs may export their machines to legitimate operations within various different global markets. What is much harder to control where they end up once they are sold on.
Prof. Fotaki acknowledges that this is a problem. "The devil's advocate argument is that companies will say: 'The suppliers I work with are legitimate people. What happens to our machinery is not something that we can control'. And there is a legitimate case for that. Nevertheless, we increasingly understand that companies, because of their power and involvement in global activities, have an increasing responsibility in terms of monitoring supply chains."
Atkinson says that once the moral argument for action is established, the question then becomes "now what do you do about it?"
"It would be silly not to export to a market like Brazil. Not everyone in Brazil is chopping down rainforests.
"The smart thing, if we're taking the point that there is a moral obligation, is to work with the government as well as with dealers and equipment resellers to tackle the problem."
He also advocates using technology to assist with enforcement so that machines are only used for legal purposes.
Consumer expectation
Fotaki sees an increasing expectation from end users and consumers that businesses take on more responsibility for where their products end up and how they are used.
"Businesses are expected to fill some sort of institutional void. If they operate in countries that have weaker institutional frameworks then they have a very important role to play," she says.
"There is a growing expectation by consumers that companies will report on their non-financial indicators. Of course, a cynic could say there is a lot of window dressing because every company has some kind of corporate and social responsibility (CSR) reporting.
"But we're not talking about just being seen to build a school in a developing country. We're talking here about the voluntary submission to due diligence."
And she adds that there is a potential benefit to companies who take the initiative in such scenarios. "If you have someone who is a leader in the field then they serve as a benchmark."
Communicating the policy
Just as important as taking a responsible point of view on machine sales is communicating what that policy is, Atkinson points out.
And to enable that communication, he recommends strong engagement with government, local communities, and any other interested parties on the ground.
"Engage with these people because the more you know, the better decisions you are going to make," he says. "Show them that you are taking things seriously."
"Nobody likes secondhand news so find out the problem yourself and then communicate it. It could be in the form of a website or an annual report but you have to make sure that you are doing things and that you are doing them for the right reasons. It's more than just a case of putting out some blanket statement saying that you are committed to the planet."
Not taking a considered and honest approach can have series consequences for your reputation, he warns.
"Something that starts off as a local issue for the people directly affected by it could find its way onto Twitter, then become an issue in the local newspaper, and pretty soon it is a major issue on page one of a national newspaper or website.
"You can't really ignore things like this. Some people will try to bury it under the carpet. You have to balance the narrative – you can't simply lie or cover things up."
Hyundai statement
Following the Greenpeace report and alongside its pledge to cease heavy equipment sales in certain Brazilian states, Hyunda issued a statement. It said, "HD Hyundai Construction Equipment (HCE) expresses its concerns relating to the environmental damage resulting from illegal activities taking place on a global basis including the Amazon region.
"As a company fully committed to social responsibility, HCE will strive to implement measures to prevent such illegal activities from occurring and will make efforts to maintain a sustainable society for the stakeholders through protection of its individual rights and the environment.
"Furthermore, HCE aims to broaden its ESG scope to include its supply chain, dealers and customers in order to ensure that its products contribute to the further advancement of the humanity."