Doosan celebrates 400,000th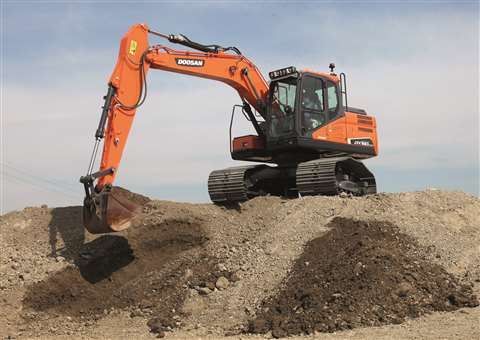 Doosan Construction Equipment, with a stand inside and one outside in the demonstration area, will be using Intermat 2018 to celebrate both the company's 40 years in excavator manufacture and the sale of the 400,000th machine since the company started in the construction equipment market.
The company promises a series of special events at the show, which will take place alongside a presentation of several new developments in the Doosan excavator range.
The first is the top-of-the-range 52 tonne DX530LC-5 crawler excavator, which the company said would, in the near future, incorporate Doosan's D-Ecopower technology for the first time.
Previously only available on the DX380LC-5 model, the D-Ecopower system will be available on both the DX530LC-5 and the next model in the range – the 50 tonne DX490LC-5 – and is said to provide operators with increases in productivity and fuel efficiency, as well as smoother controls.
Several new innovations available to customers from Doosan Smart Solutions will be shown for the first time at Intermat. To meet increasing demand for grade control systems, all Doosan crawler excavators will soon be Trimble-ready and incorporate 3D grading systems as an option, as well as the latest updated version of the company's DoosanConnect wireless fleet and asset management system as standard.
Tilt rotor
Another development from Doosan Smart Solutions on show will be the availability of factory-mounted SVAB joystick tilt rotor management systems for Doosan excavators.
At Intermat, the Doosan SVAB system will be shown on a DX165W-5 wheeled excavator in the outside area, equipped with a tiltrotator from Steelwrist, the preferred range for Doosan excavators. Doosan is also offering new factory-mounted options for electrical steering and digging brake systems.
Other developments just launched by Doosan include a new articulated boom for the DX160LC-5 High Track crawler excavator, which the company said provided a wider working environment and more convenience when working on tough applications.
Doosan will also be presenting the company's extended mini-excavator range for the first time at Intermat 2018. Doosan will be showing the DX19, one of three models recently added to the range along with the new DX10Z and DX17Z models in 2017, which form part of full range of nine Doosan mini-excavators from 1.1 to 8.6 tonne.