Doosan Infracore aims at management efficiency
By Sandy Guthrie28 February 2018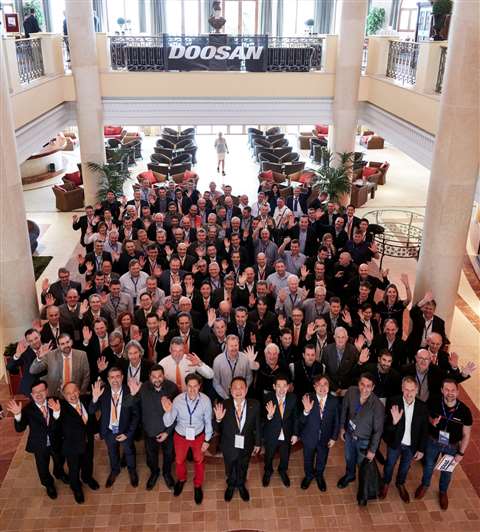 Doosan Infracore has said it plans to embark upon on a programme designed to improve its management efficiency and business competitiveness, on the basis of its "strong global leadership throughout the entire value chain" from product development to production to sales.
The company held a meeting of its European dealers in Malaga, Spain, with over 140 participants including the company's top management and executives of its European dealerships.
It was the first large meeting of dealers held by Doosan Infracore since the transfer back of its heavy business. Previously, Doosan Bobcat was in charge of the heavy business in advanced markets including Europe and North America. Through the business transfer process carried out in 2017, Doosan Infracore was able to take over the business again at the beginning of 2018.
Infracore CEO Dongyoun Sohn said, "I am deeply grateful to the local employees and dealers for their contributions to the growth of our business in the European market.
"We will emphasise our product competitiveness – which is comparable to that of any global market leader – to potential customers, while striving to increase our current customers' satisfaction with our products and services by pursuing ever greater service competitiveness, quality innovations and innovative solutions."
As part of its efforts to expand its market share in advanced markets, Doosan Infracore will also place particular emphasis on expanding the application of its cutting-edge technologies based on its proprietary telematics service DoosanCONNECT, and "world-class information and communications technologies (ICT), developing new products customised to local needs, and continuously upgrading its customer service".
The company said, "During the meeting, we shared our strategies for business growth in European markets with the dealers while further consolidating our partnership with them.
"To accelerate our business growth on the continent, we will always provide our dealers with the fastest support based on the expertise that the headquarters has accumulated over the years."
In 2017, Doosan Infracore recorded sales revenues of KRW835.8 billion (€633.76 million) in the construction equipment markets of the EMEA (Europe/Middle East/Africa) region by the end of the third quarter.
For Doosan Infracore, the EMEA is the third largest market in the world following North America and the emerging economies, accounting for 18% of the company's global construction equipment sales.
It said its share of the global construction equipment market had continued to rise since 2012. Doosan Infracore said it ranked sixth in global sales with US$4.93 billion (€4.00 billion) in 2016, as well as achieving its highest global market share to date.