Downtime Index: Southern Europe up, North America stable
Construction equipment use in North America and Europe - as measured by the weekly Downtime Index - was stable or improving last week with an overall 5% increase in the Index to 88.9. The improvement was largely down to an increase in Southern Europe.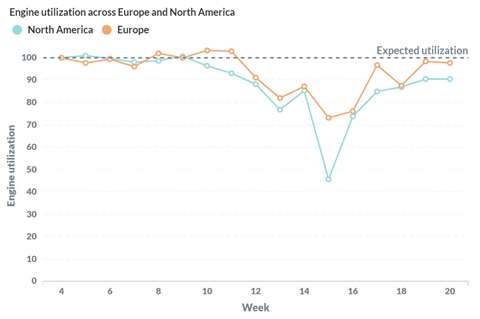 The higher Index means that construction equipment activity is now just 11% lower than expected compared to pre-Covid levels, and also 11% lower than the same period in 2019.
The improvement reflects growth in machine utilisation in Southern Europe – France, Italy and Spain – while equipment use in the rest of Europe and North America was stable week-on-week.
The Index is calculated by telematics specialist Trackunit based on data from more than 150,000 off-highway machines, including both end user and rental owned machines. Approximately 40% are aerial platforms, where rental companies are the primary owners. Changes in harmonised engine utilisation - defined as voltage activity on a machine's alternator - are expressed as an index to allow for quick international comparisons.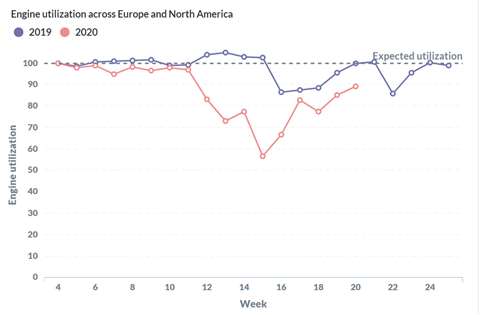 The data for week 20, starting Monday 11 May, also shows that the number of machines in use – defined as equipment turned on and operated for at least an hour – increased from 55% to 58%. The equivalent figure in 2019 was closer to 65%
There remains, however, marked differences in the Downtime Index between regions and countries, with Southern Europe still playing catch-up following the low levels of utilisation from mid-March to mid-April. Index figures remain low in France (69) and Italy (78), while the recovery in Spain has been pronounced, with last week's Index standing at 105.7.
North America is the next worst performing region, with the Index for USA in the bottom half of the table at 85.8, significantly lower than Canada, which was 95.
Western Europe – including Germany, the Netherlands, Belgium and Austria – is the region where machine use is closest to the expected for this time of year.
In Northern Europe (including the Nordic and Baltic countries as well as the UK and Ireland) there was a stable situation, with Nordic countries operating at high Index levels – close to or above 100 – in contrast to the UK and Ireland, where the Index was languishing at 68. Construction work is starting up again in much of the UK following a relaxation of the lock-down last week, although not so in Scotland where only essential work is permitted.
The Downtime Index is an initiative by Trackunit and other partners to publish anonymised telematics information to help the industry track the impact of Covid-19. KHL Group is the exclusive media partner and is publishing weekly updates on the Index.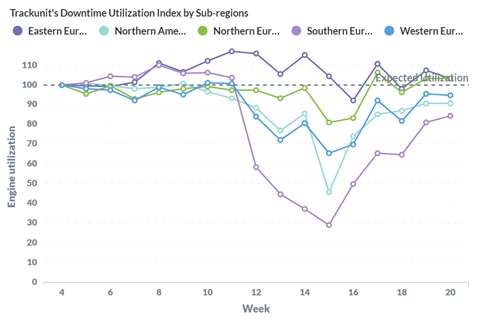 The underlying data comes from approximately 150,000 off-highway construction machines in Europe and North America, with high populations in France, Germany, Denmark and the US (40% of the total).
The Index website can be found at www.downtimeindex.com