Dynapac brings all to ConExpo
By Joe Sargent26 February 2020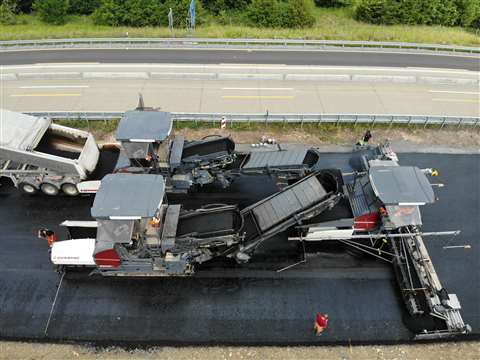 Swedish manufacturing company Dynapac plans to display its full spectrum of paving and compaction equipment and technology solutions during the 2020 ConExpo show at the Las Vegas Convention Center.
Among those, fourteen new products will be on display within Dynapac's wide range of compaction and paving product portfolio.
Vijay Palanisamy, Senior Product Marketing Manager for the company said, "We are confident that the attendees will witness what Dynapac can do to increase their productivity, improve operator safety and comfort, while lowering their overall owning and operating costs in the compaction, paving equipment and related technology arena.
"Our line-up will feature everything from our compact line to heavy highway road-building equipment along with cutting edge technology with the latest innovations."
Dynapac's booth (C31113) will be located in the Central Hall of the Las Vegas Convention Center.
At the booth Dynapac will show its signature CA3500D High Climb roller model, equipped with the company's latest Seismic technology for heavy soil and aggregate compaction.
Also on display at the show will be the D.ONE trench roller. This roller is said to feature radio remote control technology that allows for uninterrupted and long-range connectivity in the toughest weather and jobsite conditions.
Dynapac's S100A walk behind self-propelled mix spreader – capable of fitting in the back of a pick-up truck – is also set to be a show highlight from the firm.
Debuting at ConExpo will be the company's new F80W ride-on mini wheeled paver. This wheeled paver has a standard paving width of 31 to 51 inches (787mm to 1295mm) and is suitable for patchwork, trench paving, bicycle paths and golf cart paving applications.
A new addition to the company's oscillation line up, the new CO5200 VI double-drum asphalt roller can also be found at the show.
While oscillating the roller is said to provide 100% ground contact, while reducing the risk of damage from heavy vibration. The CO5200 VI has a 77-inch (1950mm) oscillation drum made of Hardox 450 steel that is highly wear-resistant and carries a seven-year, 7500-hour drum shell warranty.
The CC1400 VI 4.2 Metric Ton (9,250 lbs) double-drum asphalt roller is the newest in the compaction product line. With a 54-inch (1400 mm) drum, the drum will be the largest on show in the small asphalt tandem-roller line-up.