Earthmoving: Levelling the playing field
By Mike Hayes07 June 2017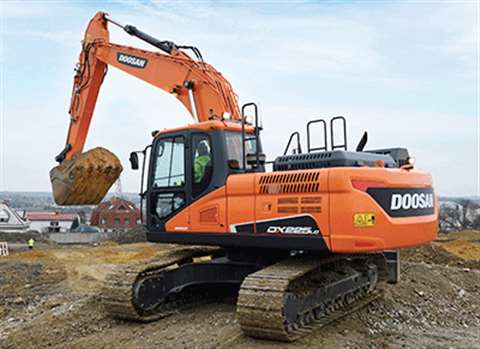 In one of the strongest sectors of the construction industry, earthmoving equipment sales are being driven by trends including favourable government initiatives, especially for transport infrastructure.
With this in mind, it's hardly surprising there is a lot of competition out there – and a lot of equipment choices for buyers.
Doosan Bobcat recently revealed its new 21-tonne class DX225LC-5 crawler excavator, with a digging depth of 6080 mm, and a reach of up to 9275 mm. The machine is powered by the now familiar 6-cylinder turbocharged Doosan DL06p diesel engine, which has an output of 124 kW at 1800 RPM and is Stage IV compliant.
Doosan is confident the machine's high torque at lower revs gives it the edge over competitors, ensuring higher reliability over time.
The firm says the traction force and slew torque on the new machine are significantly higher than competitors in the 21-tonne class, while it delivers extra lifting capacity.
Other features on the DX225LC-5 include noise reduction of 1 dBA, a reported increase of 9% in fuel efficiency, and greater travel speed.
The new 'Trip Meter Setting' feature allows operators to check fuel consumption daily from the control panel, and more fuel can be saved with an operator-configured shut-off that stops the engine after a specified period of idling time.
Inside the cab – which has been enlarged – operators have the choice of a two-way pedal or joystick for controlling attachments, and the control panel allows for 10 pre-set configurations, enabling quick changes for attachments, without the need for manual set-up.
Liebherr has developed three crawler excavators, between 20 and 25 tonnes, specifically for less-regulated markets.
The R 920, R 922 and R 924 machines were launched at last year's Bauma event in Munich, Germany, and are all built at the Liebherr Machinery (Dalian) Company in China.
One of the first R 922 excavators produced by the factory is currently working in China, at the Meibei Lake construction project, close to the city of Xi'an. Equipped with a 5.7 m boom, a 2.9 m stick, a 1.1 m3 backhoe bucket and an LC undercarriage, the R 922 is driven by a Cummins engine with an output of 110 kW.
According to Liebherr, the machine is currently working on site for up to 70 hours a week, and is regularly loading more than 200 trucks a day.
The company says all the machines in the new model series benefit from a revised and simplified maintenance concept, with regular checks made easy, as batteries, filters and most of the lubrication points accessible from ground level. Service intervals have also been extended, with hydraulic oil changes required every 3,000 hours, and engine oil changes every 500 hours.
Weighing in at close to 33 tonnes, JCB's JS330 crawler excavator has a closed box section revolving frame, which the company says increases its strength, while reducing stress.
Serviceability is high on the agenda with this machine, which has gas-assisted open and close mechanisms for ease of access to service bays, which are large and wide, offering good access.
Maintenance intervals are impressive, with 1000-hour greasing intervals on the boom and dipper, plus 5000 hours between oil changes.
The company also says grease points are centralised, making for safe and easy access to high level pivots, as well as filters.
The machine is powered by a Tier IV Final compliant MTU 210 kW engine.
The JS330 is built to last, with a high-strength X-frame undercarriage, a rigid upper frame, and a reinforced boom and dipper.
For operator comfort, the JS330 has cushioned boom and dipper ends, preventing shock loadings, while rubber mounts minimise noise and vibration inside the cab. A large laminated glass roof also provides operators with enhanced all-round visibility.
The largest and most powerful of Case Construction's excavators is the newly-launched CX750D.
Weighing in at around 71,800 kg, the excavator's Tier 4 Final compliant engine delivers 382 kW of power and generates 334 kN of digging force.
An electronically controlled hydraulic pump, along with larger solenoid valves boost breakout forces and increase the machine's lifting strength.
The boom and arm of the CX750D, as well as the undercarriage components, have been strengthened to make the excavator more robust and extend service periods.
Where access is required for servicing and maintenance, Case has widened the machine's catwalks and installed new guardrails for safety.
Other features of the excavator include standard rear cameras, a larger and more spacious cab and a high-backed seat for operator comfort and support.
Cat is a name that's synonymous with earthmoving, and it has recently launched a host of new machines in the sector, including dozers, wheeled and tracked loaders, excavators and articulated trucks.
The firm's new D8R dozer certainly has the muscle to move a lot of earth, with increased power output and a larger standard blade.
On this model and others, Cat has stepped up the technological options for customers, with a range of GRADE systems available.
The company says the new dozer is fitted with a more efficient powertrain and cooling system, increasing its productivity by up to 20%.
With the bigger blade, the dozer can move up to 13% more material on each pass, and a strengthened box section and high-tensile steel construction increase its durability.
The D8R has a new electronically-controlled transmission, which, along with soft-touch gear-shift buttons, make it easier and more comfortable to operate.
The numbers for Cat's latest 953K tracked loader are even more impressive, with a reported 22% improvement in fuel economy, and 22% more material moved per unit of fuel.
Powered by a Tier 4 Final compliant 132 kW Cat C7.1 ACERT engine, the loader has a host of new features, including an optional high capacity Performance Series bucket, that Cat says can move up to 10% more material per hour.
Along with its performance enhancements, the 953K offers operators reduced noise (inside and out), a suspension seat and a more efficient air conditioning system.
John Deere recently added two new models to its impressive articulated dump truck (ADT) range.
The 260E (23.5 tonnes) and 310E (28 tonnes) boast new styling, plus larger and quieter cabs, and upgraded frames and axles.
Both trucks are powered by a John Deere Power Tech 9.0 litre Tier 4 Final engine, as well as a purpose-built ZF transmission, with a high-capacity retarder, eight forward gears and four reverse.
The firm says it has increased the retardation capacity of the trucks by 125%, and incorporated a new automatic differential lock, which provides both cross-axle and inter-axle lock options, to help the vehicle through soft conditions or steep terrain.
Both ADTs feature a new stay-tight oscillation joint and adaptive front suspension, increasing their agility, and both have hydraulically actuated wet disc brakes in all three axles, enhancing their durability.
John Deere says it has made a dramatic improvement inside the cab, with noise levels reduced by 50%, through the addition of sound abatement and improved floor mat design.
Standard features for operators include auto dump, descent control, shuttle shifting, hill hold and load assist, and both the 260E and 310E feature ground-level servicing to simplify routine maintenance and servicing.
The 912F-series of ADTs from Danish earthmoving specialist Hydrema have only two axles, keeping the weight low, which can prove useful when driving with a 10 tonne payload on public roads.
The latest F-series trucks are powered by a 108 kW Cummins Stage 4 Final engine.
Unloading can be undertaken with precision, as the truck's Multitip system allows the dump body to rotate through a 180o area. The relatively small 912F also has a very tight turning radius of just 6.1 m
Perhaps most impressively, Hydrema has incorporated an articulated steering system with an oscillating centre pivot and hydraulic stabilisers, which automatically transfers weight from one wheel to the other to ensure the most weight is concentrated on the wheels in strongest contact with the ground.
The centre pivot also ensures constant track alignment of the front and rear wheels, enhancing traction – and the vehicle's low centre of gravity allow it to drive on slants of up to 40o.
For operator comfort, the trucks have cab suspension and there is also the option of an air-suspended seat.
China's king of the bulldozer is Shantui. In fact, the company is the largest bulldozer producer in the world. With globalisation as its priority, the firm introduced four dozers to the North American market at the recent ConExpo event in Las Vegas, where it reportedly took orders from customers from the Middle East, South Africa and Brazil, as well as the US.
It's hardly surprising that Shantui is excited about the North American market; it currently represents around 45% of the global market capacity. And in this market, Shantui will go into battle with some of the world's foremost construction equipment manufacturers.
The four dozers shown at ConExpo were the DH10J, DH13K, DH16J2 and SD32DQ with the J and K series machines being fully hydraulic, with engines complying with Tier 3 and Tier 4 standards.
The smallest of the range on show was the DH10J, powered by an 80 kW Tier 3 Cummins engine. The dozer has an electronically controlled hydrostatic drive and blade control. The 6-way straight blade has a 2.7 m3 capacity and the dozer boasts a 151 kN drawbar pull.
Inside the cab, operators are treated to an air-suspension Grammer seat, plus high-capacity heat and air conditioning. The DH10J also features adjustable steering sensitivity and ergonomic joystick controls.