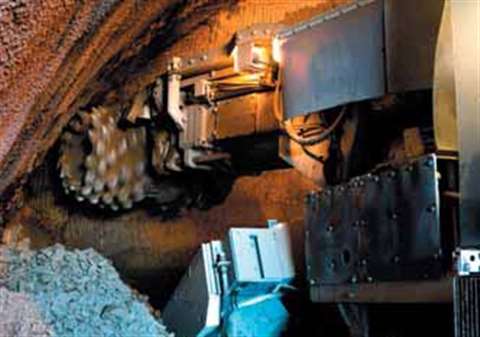 Melbourne's eastern suburbs are home to 43% of the city's population and responsible for 40% of manufacturing in the state of Victoria, but the area suffers from severe traffic congestion. It is served by several radial east-west freeways but these are not linked by any north-south routes, leaving local roads to carry up to 80000 vehicles per day.
Plans for a series of bypasses to tackle the problem date back over 40 years. But while corridors of land were reserved for the new roads, funding and environmental issues prevented construction getting underway – until now. All the bypasses have been linked into one AUS$ 2.5 billion (US$ 1.83 billion) Public Private Partnership (PPP) scheme – EastLink – which is currently the largest road project under construction in Australia.
The Victorian Government's Southern and Eastern Integrated Transport Authority (SEITA) awarded the 39 year concession for EastLink to Connect East in October 2004. ConnectEast – a joint venture led by the Macquarie Bank and contractors Theiss and John Holland – started work on the construction phase in February 2005.
ConnectEast involves the construction of 39 km of three lane toll road between Frankston to the south and Mitcham to the north, plus a 6 km freeway at Dandenong and Ringwood. The route includes 6.5 million m2 of earthworks and construction of 17 interchanges, 86 bridges, five pedestrian overpasses and twin 1.6 km long, three lane tunnels. The massive scheme is due to be completed by the end of November 2008 and will be paid for through electronic tolling.
"Congestion in Melbourne is estimated to cost AUS$ 6 billion (US$ 4.5 billion) in lost business each year and completion of EastLink will go someway towards reducing that figure by cutting journey times between Frankston and Mitcham from 65 minutes down to 25 minutes," said SEITA CEO Ken Mathers.
"Local communities are very supportive of the project not just because the road will improve journey times but also because it will improve safety and air quality and reduce traffic on the existing road network. Springvale Road runs almost parallel to EastLink but has 47 sets of traffic lights and the constant stop-start traffic creates high levels of emissions."
To fast track the project, ConnectEast started work at multiple sites along the route and work is already underway on 20 km of the 39 km tollway. "Earthworks along most of the route have been started even though construction will not be carried out at some points for several years," said ConnectEast CEO John Gardiner. "This has allowed us to use the route as a haul road and keep the majority of construction traffic off the local roads and has prevented us from adding to the congestion problem."
Work on a number of bridges has also been started and Theiss John Holland (TJH) has specially imported Victoria's largest mobile crane from Germany to carry out the work. The 500 tonne capacity Terex Demag AC 500-2 – named Snow White by local school children – will lift around 1650 beams, measuring more than 60 m in length and weighing up to 130 tonnes each, into position during the project.
Work had already started at 30 bridge sites by the end of 2005 and more are scheduled get underway this year. Construction of the bridges at Oakwood Avenue and Halton Road is already nearing completion. Both bridges are twin span concrete structures formed using pre-cast T-beams are nearing completion, and the abutments are retained by architecturally detailed reinforced earth walls.
"Oakwood Avenue Bridge will be the first structure to be completed on EastLink," said TJH project engineer Richard Atkin. "The bridge has been built using top down techniques and excavation of the material under the bridge will clear the way for this section of the route to be used as a haul road. Use of the top down approach has made the construction process easier and safer."
The main hive of construction activity on the site is near the northern end of the route where TJH has already started construction on the 1.6 km long twin bore tunnels. "The tunnels were an important part of overcoming previous environmental objections to this part of the scheme," explained Mr Gardiner. "Construction of the tunnels will take the route below one residential area and help to protect the environmentally important Mullum Mullum Valley."
The tunnels are being driven simultaneously through a mixture of mudstone and sand stone from both the north and south portals using four 133 tonne Sandvik Voest Alpine 105 Icutroc road headers. "We started driving the tunnels in August last year and achieved advances of up to 25 m per week depending on the ground conditions," said TJH regional manager Craig Farr.
"The initial drives were only carried out during daytime to minimise noise disturbance for local residents. The portal ventilation structures have been designed to double up as noise attenuation units during the construction and have enabled us to continue tunnelling around the clock from the end of November 2005."
Excavation of the 15 m wide and 12 m high tunnels, which will each carry three lanes of traffic and a hard shoulder, is being carried out in three stages. After excavation, TJH is using an Atlas Copco Rocket Boomer underground drilling and bolting rig to install the 3.7 m long temporary rock bolts to a predetermined pattern until the linings – shotcrete over the arch and pre-cast concrete on the invert – are installed.
"The completed tunnels will be fitted with deluge systems, which can dump considerable amounts of water onto any source of fire," said Mr Farr. "This type of fire control system are common in Australia but are not widely used elsewhere in the world."
Public consultation has played a key part in getting EastLink off the drawing board and onto site and is continuing to be an important part of the construction phase. "Both SEITA and ConnectEast have a seven community liaison staff who have developed good relationships with local people," said Mr Mathers. "The teams have carried numerous community visits, road shows and other events to ensure that local people not only know about the scheme but also feel involved."
Although some sections of EastLink will not be completed for another two and a half years, ConnectEast hopes to be able open some sections of the route ahead of the planned November 2008 completion date.