Easy Lift expands production
By Euan Youdale07 May 2013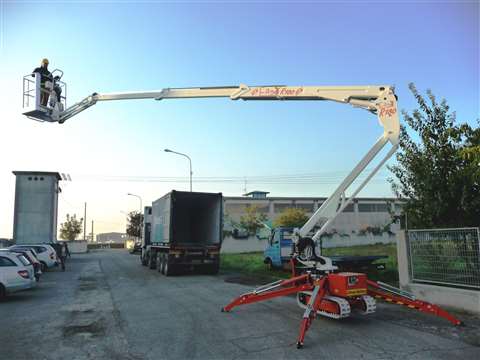 Italy-based Easy Lift will launch a tracked and wheeled compact platform later this year and build a new facility.
The new R410 will have a working height of 41 m and follows the launch of the R180 launched at the SAIE exhibition in Bologna, Italy last year. The R180 has a working height of 17.6 m and outreach capability of 80 kg at 11 m. It can work on steep slopes thanks to the adjustable undercarriage, said the manufacturer.
"Despite difficult economic trends, Easy Lift has continued to invest, focusing more and more on exports," said an Easy Lift spokesman. "We have already obtained the Canadian, US and Russian certification and are making plans for the construction of new headquarters, not far from the current one."
Easy Lift has also recently updated its tracked R 260 and R300 compacts, making them available on wheels. They also come with diesel engine and electric motor; battery and electric motor; and diesel engine, battery and electric motor.
The company also extended the line with the 36 m working height R360, offering 120 kg at a 14.5 m outreach, a telescopic jib of 7 m and total weight of 6,500 kg.
Look out for more information about the R410, coming soon.