Engineering firm wins deal to design and build world's first near-zero emissions gas plant
By Neil Gerrard12 April 2023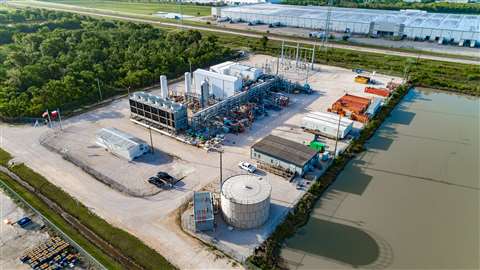 Engineering and construction services company Zachry Group has won a deal to design and build the world's first large-scale gas-fired power plant with 'near-zero' emissions.
Zachry Group will provide front-end engineering design (FEED), followed by engineering, procurement, and construction (EPC) services for the construction of the plant for client NET Power.
It is due to complete FEED work in 2024, before bringing the 300 MW facility online near Odessa in Texas in 2026.
NET Power said a standard modularized utility-scale design approach is expected to keep costs down and lead to the construction of more plants.
The plant burns natural gas with oxygen in what it calls a 'supercritical CO2 cycle' to drive a turbine. It will use a carbon-capture system and transport the captured CO2 to a permanent underground sequestration location through Occidental Petroleum's nearby existing Permian CO2 handling infrastructure and operations.
Occidental is NET Power's largest shareholder.
NET Power has already developed a proof of concept for the plant at its demonstration facility in La Porte, Texas.
Brian Allen, president and COO of NET Power said, "Notably, Zachry has a track record of building successful first-of-a-kind facilities in the power sector; their FEED and EPC work for our first utility-scale plant will establish the standard for future NET Power plants."
John B. Zachry, chairman and CEO of Zachry Group, said, "We look forward to working with NET Power and contributing to a cleaner energy future. This project is an example of why we created Zachry Sustainability Solutions and demonstrates our company's commitment to supporting the evolution of new and cleaner energy sources.
"It is exciting to bring our expertise to this first-of-its-kind facility and we look forward to supporting the launch of NET Power's broader deployment goals."