Entrec to invest $16 million
By Laura Hatton16 February 2015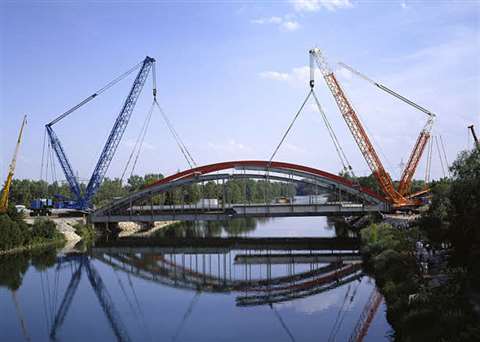 Entrec Corporation, based in Alberta, Canada, has revealed its 2015 business plan with a net capital expenditure programme of $21 million (US$ 16 million).
Growth capital expenditure at the company includes the addition of a 750 tonne capacity Liebherr LR 1750 crawler crane, for around $7 million (US $5.6 million) of the total. A further $4 million (US$ 3 million) of investment is due to be made on all terrain mobile cranes and a further $10 million (US$ 8 million) has been set aside to maintain the company's crane, tractor and truck fleets.
The company intends to fund its 2015 capital expenditure programme from its asset-based credit facility the ABL Facility, finance leases and cash from operating activities, the company said.
Entrec's 2015 programme reflects the uncertainty of crude oil prices in the oil and gas industry and, in particular, how this will affect the Alberta oil sands region, a company spokesperson said. Until the industry outlook improves, the company will limit future capital expenditure.
John Stevens, Entrec president and CEO, said, "Moving into 2015, our outlook is mixed. On the positive side, we expect that utilisation levels for our crawler and rough terrain cranes will increase throughout 2015 as certain of our oil sands construction projects continue to ramp up. In addition, our growing crane fleet has helped us establish a stronger presence in the market for maintenance, repair and operation work in the Alberta oil sands region, which is typically less susceptible to changes in near-term commodity prices, and should continue to provide a steady demand for our services this year and beyond."
Despite a slowdown in the oil and gas industry forecast for 2015, Entrec expects activity to remain high in north-west British Columbia as it continues to support the smelter revitalisation project in Kitimat. The project is expected to remain active until mid-2015. The future construction of LNG facilities in the area is also expected to impact the company's activity.
Entrec's estimated revenue for the year ending 31 December 2015 ranges from $200 million (US$ 160 million) to $240 million (US$ 190 million), compared to estimated revenue of approximately $230 million (US$ 180 million) for the year ended 31 December 2014. As a result of lower pricing and equipment utilisation in 2015 Entrec has also adjusted its EBITDA margin in 2015.
Stevens added, "Over the longer term, our overall competitive position and outlook continues to be very positive. Despite short-term uncertainties and challenges, we are well-positioned geographically, with the right equipment fleet, and a complete range of crane and specialized transportation services in the markets that we believe will drive significant growth in our business. While we expect 2015 to be a challenging year from an operating perspective, we are aggressively managing our costs through this period and remain well-positioned to capture future growth opportunities once industry fundamentals improve. We will accomplish this by continuing to focus on our core values and delivering safe, exceptional, innovative solutions to our customers through a team of highly engaged employees."