ERA Annual Report now available
The European Rental Association (ERA) is pleased to announce that the 2019 Annual Report has just been published.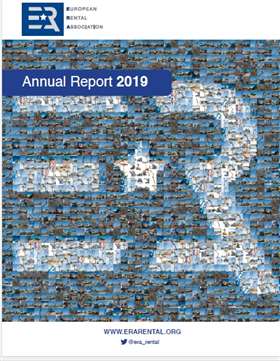 The report provides an outlook of trends and events that affected the rental industry in the period August 2018 to August 2019 and lists achievements of the ERA during that period.
The report also provides an overview of the presentations made at the ERA Convention 2019 (Plenary Session and Workshops) and a presentation of the winners and shortlisted companies at the 2019 European Rental Awards.
In order to reduce paper waste, the ERA Secretariat has decided not to send hard copies of the report anymore, as it used to be, but to supply the ERA Annual Report in digital format only. It is available on the ERA website at https://erarental.org/en/publications/era-annual-reports/annual-report-2019.
For any additional information, please contact the ERA team at era@erarental.org.