During the last ERA Convention, on 23 and 24 May in Vienna, four workshops were organised simultaneously.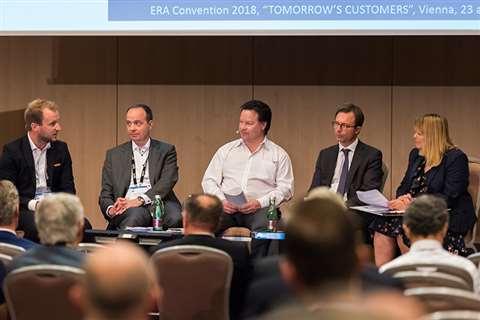 Until then, only three workshops were taking place, the Technical workshop, the Promotion workshop and the Sustainability workshop. This year, the Future Group decided to hold also their own workshop.
The workshops were moderated by the Chairmen of the ERA Committees (Promotion, Sustainability and Technical), assisted by other members of those committees, and by the members of the Future Group for their own workshop.
Here is a selection of the questions asked to the participants, all focusing on "Tomorrow's Customers" and on the topic of the committee:
- Which services do the rental companies need to develop to be ready to the Diginatives?
- How will the digital customer journey look like in rental in 10 years from now?
- Do the online market places have a chance to fulfil the rental needs of the customers of the equipment rental industry in the future?
- How can we help our customers achieving their current green targets?
- What do we perceive as green targets of our customers tomorrow?
- What will be the rental equipment needs of our customers in the future?
- Big Data: how will the owner of the equipment (contractors, rental companies) get support from the OEMs for the supply and management of Big Data?
The answers collected in each workshop will be presented during the next committees / working group meetings after the summer and will be used to fine-tune the priorities of the committees and of the Future Group to continue their works. The outcomes will then be posted on the ERA website.
For more information, please consult the ERA Secretariat, era@erarental.org