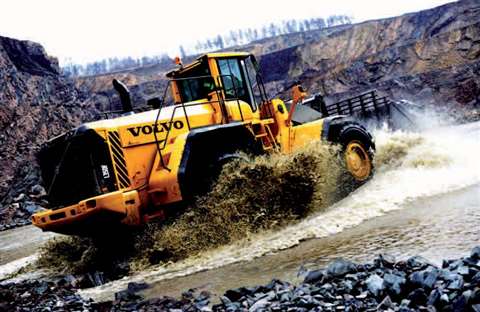 The biggest markets for wheeled loaders in 2005 were France and Germany, according to construction equipment market research specialist Off-Highway Research. Managing director David Philips told CE he expected the two countries to continue as the largest markets in 2006. However, he said the UK's seven years of "unbroken growth" in sales should continue, thanks mainly to construction projects associated with the London 2012 Olympics.
Paul Burger, general manager, international sales, Hitachi points to other markets as having promise too. "While the UK looks like continuing to be a good market, particularly in London and the South East, where we are seeing strong sales to recycling companies and waste transfer stations, I also see a lot of potential in Holland and Belgium."
However, Mr Philips told CE there could be problems with the supply chain. "In 2005 there is every evidence to suggest that the market could have been +5 to +10% higher if only dealers' orders could be fulfilled by the manufacturers. The situation in 2006 [was] even more serious: order backlog rose; lead times lengthened; and few manufacturers significantly added to their capacities.
One of the major obstacles to meeting customer orders remains an acute shortage of tyres for the larger machines. According to Hitachi's Mr Burger, it has been "the major headache" over the last few months. Mr Burger told CE that for larger sizes European contractors won't accept tyres made in Russia, or China, instead they want Michelin or, "at a pinch", Bridestone.
"We've had several meetings with the tyre manufacturers, and to be honest their attitude has been rather arrogant, but then they can afford to be because they've sold whatever they can produce."
This attitude, and the attendant shortage is having other effects too said Mr Burger. "The shortage is making the whole assembly and production of machines rather problematic. If a machine hasn't got tyres you can't move it around very easily. Storage becomes a problem too. These are all cost increasing measures.
"However, the production base remains the same. While there's still strong demand we're still producing machines. Sometimes a customer is able to source four good tyres themselves so that's helping. But the shortage just complicates production rather than delays it," added Mr Burger.
European Sales
Sales of wheeled loaders in Europe reached 19279 machines in 2005, according to Off-Highway Research. And with the company predicting sales in 2006 will still be a healthy 19050 the wheeled loader continues to be one of the most widely used pieces of construction equipment in Europe.
Mr Philips told CE sales of this popular machine can be broken down into two groups; machines under 60 kW, and machines over 60 kW. In 2005 sales of machines under 60 kW hit 7969, while 11310 units over 60 kW were sold in the same period. This represents about 12% of the European construction equipment market total of 163791 units.
For machines under 60 kW demand in 2005 was largely divided between Germany (4750) and France (1300), thanks to a boom in the German housing market and French rental companies continued investment in renewing their fleets, said Mr Philips.
Demand for machines over 60 kW was more evenly spread. Germany (2528 units), France (1400) and Spain (1219) all performed well, while Sweden, Finland and Denmark all saw a healthy rise in sales. In the south the Spanish Portuguese market were relatively flat while sales in Italy declined by -8%.
Although Mr Philips is expecting sales to dip slightly in 2006 he predicts a rise of +4% for machines under 60 kW, with sales of machines over 60 kW falling -5%.
Emission Laws
While tyre shortages continue to impact on deliveries there have been plenty of new machines above 10 tonnes launched in the last 12 months. The chief driver behind this surge was the new Stage IIIA emissions laws for 130 to 560 kW engines that came into force on 1 January 2006.
The new laws meant there was plenty of activity at the beginning of 2006, with most manufacturers choosing last year's Intermat Show (April 24 to 29) as the launch pad for their new machines. Caterpillar, perhaps not surprisingly, made the biggest splash with the introduction of five new machines from 18,5 to 30,5 tonnes.
The 950H, 962H, the 966H, 972H and the 980H, from 147 to 237 kW, all feature new 6-cylinder ACERT engines (C7, C11, C13 and C15) with ADEM 4 electronic controllers and mechanically actuated electronic fuel injection (MEUI).
The H Series also offers Cat's new Engine Idle Management System (EIMS), which is designed to maximise fuel efficiency, standard steering wheel or Cat's command control steering wheel, non-metallic hood, one piece counterweight, visible sight gauges for transmission oil, hydraulic oil and engine coolant, grouped grease fittings, a new hydraulic service centre, 500 hour hydraulic filter service interval and 1000 hour transmission filter service interval.
Since April 2006, Cat, like many manufacturers, has been "closing the gaps" in its wheeled loader line. It recently launched the 990H, which replaces the 990G Series II. Designed for bulk materials handling and high volume earth moving the 990H can load 54 to 60 tonne trucks in the standard lift configuration or 91 tonne trucks in high lift configuration. Standard payload is 15 tonnes, with an operating weight of 77,8 tonnes. Bucket capacities range from 8,4 to 9,2 m3.
Like the other machines in the H Series the 990H features an ACERT engine, the 468 kW C27, an ADEM control system, 500-hour oil change intervals, and an air-to-air aftercooling (ATAAC) system.
The power train features an impeller clutch torque converter (ICTC), which allows the operator to modulate rimpull efficiently for smooth loading cycles. Also standard, as with the other models in the series, is Cat's next generation modular radiator (NGMR), which is designed to improve serviceability and increase cooling efficiency. Its modular core allows removal of a single module without removing the entire radiator, which, according to the company, results in reduced downtime and lower repair costs.
New Machines
Another new machine is Komatsu's WA600-6. It has a maximum operating weight of just under 53 tonnes and a 393 kW Stage IIIA engine. Despite its size, the noise level in the cab is just 73 dB(A) – the lowest in its class according to the company.
Komatsu says the engine and its own design of torque converter also gives the WA600-6 the best rimpull in its class. A variable displacement piston pump for the closed circuit hydraulic system matches the oil flow to the application, which works with the operator-selected engine modes to cut fuel consumption.
The company has also recently launched the 202 kW WA470-6 and the 224 kW WA480-6, which replace its dash-5 models. Both machines benefit from Stage IIIA engines, larger cabs, easier maintenance and Electronically Controlled Suspension System for a smoother ride.
Another new addition is Hyundai's 30 tonne HL780-7A. Powered by a 259 kW Cummins engine it features a large, comfortable, quiet cab, -7dB(A) quieter than the previous model.
Elsewhere, Hitachi has also added to its range of wheeled loaders with the introduction of its new Stage IIIA compliant ZW series. The three new machines – the 220 kW ZW310, the 179 kW ZW250 and 164 kW ZW220 – all feature Hitachi's new Total Torque-control System, which allows the operator to find the right balance between traction force and front speed.
Depending on the job, the setting can be manually adjusted to traction priority, general work or light duty. The machines also feature automatic transmission with a load-sensing system to improve load-and-carry performance.
Liebherr also launched its new range of '2plus2' wheeled loaders last year at Intermat – the L 566, L 576 and L 580 – all fitted with Stage IIIA compliant engines. Like Cat it has now launched new machines to complete the series. The new 140 kW L 556 joined these models at the end of last year, and the company has completed the line-up with the launch of the 130 kW L 550.
While the machines have been restyled, they retain Liebherr's '2plus2' fuel saving drive technology. The machines also have a new cooling and electronic system, and operators will appreciate the +28% bigger cab, which has a more powerful air conditioning unit.
New safety features include a single-part laminated front windscreen, larger external mirrors and four floodlights. Collision protection has also been included in the rear ballast, and the rear lights have been directly incorporated into the ballast for more protection.
New from Doosan are the 162 kW, 18 tonne DL300 and the 204 kW, 23 tonne DL400. Again the machines feature Stage IIIA engines – Doosan's own in the DL300 and a Cummins in the DL400 – and both machines are fitted with ZF's Ergo Power transmission. The cabs feature adjustable steering columns and air suspended seats, and provide greater visibility than the previous models.
High Reach
Of the smaller machines launched recently JCB's 12 tonne, 100 kW 422 is the latest addition to its wheeled loader range. Previewed at last years Intermat it joins the 426, 436 and 456.
While the 426 and 436 were upgrades to previous models, the 422 is completely new and, according to a company spokesman, should be in production later this year. Suitable for work in concrete batching plants, aggregate re-handling depots and general utility applications it boasts a maximum payload of 3,4 tonnes and options include HT high lift or ZX loader arms.
Like JCB, the latest additions to Volvo's range are long boom versions of its L60E, L70E, L90E and L110E wheeled loaders, which mean long boom options are now available for models from the 11 tonne L60E right up to the 50 tonne L330E.
"As far as the new machines are concerned, this option adds between 0,42 and 0,52 m to the loader's dump height, depending on the model, which is important given the move to high capacity, high-sided on-highway trucks in many parts of the world," said a company spokesman.
The spokesman told CE that visitors to this year's
Bauma Exhibition (Munich, Germany, April 23 to 29) will also be able to see its new
L60F, L70F and L90F, which replace the in October last year. Designated the 721XR, the high reach version should be available from the end of March, with visitors to Bauma "perhaps" having the chance to see the machine in the iron.
While the 721E replaces the 721D the company maintain it is more than a simple upgrade. "The new series has been redesigned from the ground up and builds on our strength and durability while introducing the latest technology for the benefit of the customer. The totally redesigned 721E is more than a wheel loader. It is also available as the 721 EXT toolcarrier," said a company spokesman.
The 721E is powered by a 6 cylinder Case 667TA/EED turbocharged and after-cooled electronically controlled 6,7 litre engine, which provides three power and torque ratings at varying engine revolutions.
Four working modes – Standard, Maxpower, Economy and Autopower – allow the machine to be used for different applications. In Autopower the power curve is automatically matched to the application. Demand is constantly monitored with engine output and torque continually adjusted for maximum performance and efficiency.
In Standard mode, the engine output is 136 kW/1900 rpm. At MaxPower, output is increased by +5% to 145 kW/2000 rpm. In Economy mode, power is retarded -5% to 128 kW/1800 rpm. The engine also provides multiple idle settings.
The drivetrain is matched to the engine output, while the transmission has four forward and three reverse gears. Maximum speed is 23,6 km/hour.
A larger cab and floor to ceiling glass improve visibility and enhance productivity.
Outlook
With Off-Highway Research predicting sales of 18135 wheeled loaders in 2007 there are bound to be plenty of new machines launched at this year's Bauma Exhibition (Munich, Germany, April 23 to 29).
However, the Stage IIIA engine emission laws that came into effect on 1 January this year affect engines from 75 to 130 kW and 19 to 37 kW. It therefore seems certain that, with a few exceptions, the majority of new machines at the show will be new midi and compact machines.