European equipment hits post-crisis high
By KHL Staff20 March 2018
Construction equipment sales in Western Europe rose 13% last year to 160,562 units, according to new data from specialist forecasting and market research company, Off-Highway Research, which said that this took demand to its highest level since the global financial crisis.
Significantly, each individual country in Western Europe saw increased equipment sales last year.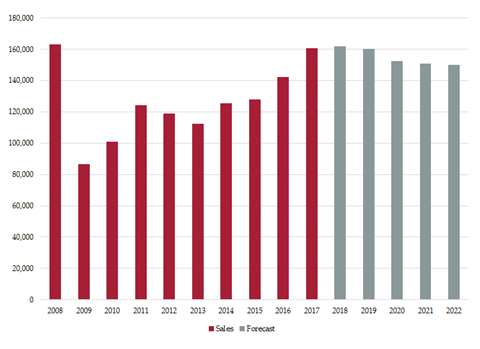 European construction equipment unit sales
Source: Off-Highway Research
Off-Highway Research managing director Chris Sleight said, "At 160,000 units, the European market is the strongest it has been for a decade. This buoyancy is expected to persist in 2018 and 2019, before volumes tail off to around 150,000 unit sales in 2022.
"This will be a welcome relief after the difficult post-crisis years, but if volumes rise further there is a risk of the market overheating."
Although a number of countries are still in recovery mode, particularly those in Southern Europe, demand in several key markets in mid- and Northern-Europe has returned to or exceeded the pre-crisis high.
The most notable of these is Germany, the largest equipment market in Europe, which at 39,062 units, achieved its highest construction equipment sales since the reunification boom of the early 1990s.
In addition, demand in Sweden and Norway has now far exceeded the previous highs set in the mid-2000s.
The biggest increases in percentage terms were in Spain and Portugal. However, the lows that these countries fell to in the aftermath of the global financial crisis means that, even with this robust growth, volumes are still relatively low and do not reflect the healthy and natural sizes of these markets.
The same could be said, to a lesser extent, of Italy. The market is still only about 50% of its pre-crisis high. However, after four years of continuous double-digit growth it now represents a significant 9% of overall European demand.
Of the other major markets, France enjoyed an 18% increase in equipment sales last year, continuing the recovery which began in 2016, following the sharp dip the previous year. Meanwhile construction equipment buyers in the UK shrugged off any concerns and uncertainties surrounding Brexit to buy 15% more equipment last year than they did in 2016.
For more information visit www.offhighway.co.uk