European equipment market highest for a decade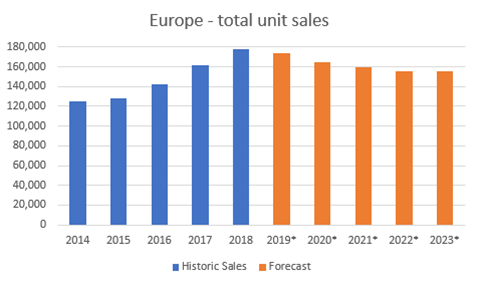 Construction equipment sales in Europe last year hit their highest level for a decade, according to specialist market research and forecasting company, Off-Highway Research. Sales rose 10 per cent to 177,694 units.
This took demand to its highest level since the global financial crisis, although it was still some 15 per cent lower than the remarkable peak of 210,000 units sold in 2007. However, the company said the boom of the mid 2000s took the market to unsustainably high levels, resulting in a prolonged and painful crash. At the current level, European equipment demand is regarded by it as extremely healthy.
Off-Highway Research managing director Chris Sleight said, "Equipment sales increased in every Western European country apart from Switzerland last year and the market was more buoyant than many expected. Sales could have been even higher were it not for supply issues and long lead times for some equipment types.
He continued, "We believe that 2018 represented the peak of the current cycle. However, we expect only a moderate downturn and overall demand should stay at good levels."
Countries displaying growth well above the average of 10 per cent last year included Ireland, Italy, Portugal and Spain. However, volumes in these countries still remain relatively low in historic terms. In contrast, growth was below trend in Norway and Sweden, but these countries have reached remarkable highs in terms of the number of machines being sold.
France, Germany and the UK accounted for 64 per cent of European equipment sales last year, and all three enjoyed good growth. Most notable was Germany, where demand for construction equipment was a staggering 43,106 units last year. This total has only been bettered once, in 1992 at the height of the post-reunification building boom. Mini and crawler excavator sales in Germany have never been higher and demand for telescopic handlers is also at record levels.
In France demand has bounced back well from the downturn seen in 2015 thanks to tax breaks and infrastructure investment. At 32,920 machines sold last year, demand was 64 per cent higher than the low point seen just three years previously.
Meanwhile, construction equipment sales in the UK reached a post-crisis high of 38,020 units last year, despite the uncertainty and political bungling around Brexit. A good housebuilding market and a number of major construction projects are providing stability in the market.
Key findings form the new data and forecast will be discussed at Off-Highway Research's breakfast briefing on Tuesday 9th April, during the Bauma exhibition. Click here for more details and to book your place.