European Rental Award winners announced
By Helen Wright06 June 2016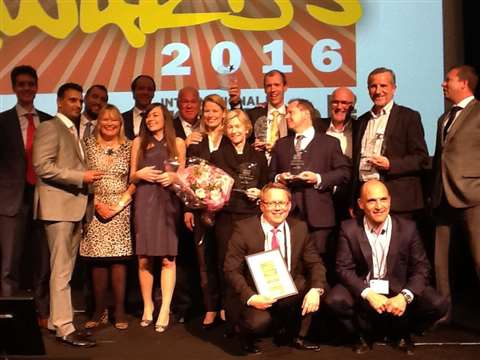 The prestigious European Rental Awards took place on 8th June at the Hotel Clarion Sign in the beautiful city of Stockholm, Sweden.
The awards, which are jointly organised by IRN and the European Rental Association (ERA), comprised six categories, including a new award for Sustainable Business Innovation in Rental.
IRN would like to thank all the companies and individuals that submitted entries to the awards – the standard was very high as was the volume of entries. Fifty-seven entries were received in total for the awards, including eight for the new sustainability category and 35 alone for the rental product of the year award.
AWARD 1
Large Rental Company of the Year
(revenues over €15 million)
SHORTLIST:
· A-Plant (UK)
Loxam (France)
Riwal (Netherlands)
WINNER:
Riwal
WHAT THE JUDGES SAID:
"2015 was an important year for Riwal. It rolled out its new lean operation system, the Riwal Way, across its entire organisation, revenues rose by 13% on a fleet that was just 4% larger, and EBITDA profits rose by 22%.The company was active across multiple fronts: creating an online account management portal for its customers; developing electric versions of booms for special applications; and opening new locations in Belgium, Denmark, Sweden, India and Kazakhstan. In a very tightly contested category, and with other shortlisted companies also performing extremely well, Riwal is a very worthy winner of this year's Large Rental Company of the Year award."

AWARD 2
Small/Mid-Sized Rental Company of the Year
(Revenues under €15 million)
SHORTLIST:
Crestchic Ltd (UK)
Drial Poland (Poland)
Echo Barrier (UK)
WINNER:
Crestchic Ltd

WHAT THE JUDGES SAID:
"An established manufacturer of loadbanks for 30 years, Crestchic entered the rental market in 2013 and has been remarkably successful in creating a rental business in Europe and Asia.It grew its rental revenues by 10% in 2015, added new specialist products – capacitive loadbanks – and diversified its business into data centres and facilities management in response to the slowdown in oil and gas. The company has been both innovative and quick on its feet: a winning combination."

AWARD 3
Rental product of the year
(launched during 2015)
SHORTLIST:
EL & Site - MBerg LED-light
Genie - Z-33/18
HH-Intellitech - GlasLift 550 Terrain
Holland Lift - HL-330 E14
Kaeser - M82
Wacker Neuson - WL20e
HIGHLY COMMENDED:
Wacker Neuson for the WL20e wheeled loader

WHAT THE JUDGES SAID:
"By listening carefully to what the market was requesting, Wacker Neuson has developed an electrically driven wheeled loader that will enhance rental for indoor applications. The WL20e can be put to use in greenhouses, tunnels, parking garages and other similar environments, offering no emissions and less noise. Ease of maintenance as well as lower maintenance costs are also important features for rental companies. Wacker Neuson deserves recognition in the rental industry for its efforts."

WINNER:
EL & Site Oy for the MBerg LED light


WHAT THE JUDGES SAID:
"The Mberg is a site light that requires almost zero maintenance, can be used in tough conditions, and is suitable for use in a wide range of environments. Its low voltage and excellent heat distribution means they are safe to use, and their high energy efficiency reduces the CO2 footprint, making them a 'green' choice. For rental companies they offer the additional benefit of being available in all colours, allowing them to be personalised according to the needs of the customer. The Mberg may be small, but it is a product that is perfect for rental, and which has been developed with the needs of rental companies in mind. We congratulate the company for a top class piece of product design."

AWARD 4
Sustainable Business Innovation in Rental
SHORTLIST:
HSS Hire (UK)
Hewden (UK)
Kiloutou (France)
Loxam (France)
WINNER:
Kiloutou


WHAT THE JUDGES SAID:
"Kiloutou has been pursuing a sustainable rental agenda for 15 years and in that respect is one of the pioneers of sustainability in the equipment rental industry in Europe. In 2015, initiatives included providing customers with a carbon footprint calculations included on invoices; a hazardous waste recycling procedure co-developed with partner Veolia; and new processes with partner Ecologic to ensure that machines at the end of their life are properly recycled. Its new logistics system allowed it to reduce its in-house transport fleet by 25% yet increase the number of deliveries. Kiloutou takes sustainability seriously, and adopts strategies across every aspect of its business."
AWARD 5
ERA/IRN Rental Person of the Year
Sat Dhaiwal
CEO, A-Plant
WHAT THE JUDGES SAID:
"Sat Dhaiwal joined A-Plant aged 22 in 1992 and was appointed CEO in 2002 and has proven to be a distinguished rental leader. Last year was a notably successful one for his company. Financially, A-Plant saw its revenues grow by almost 17% in 2015, while it made six acquisitions and managed to secure £120 million from its parent company Ashtead to invest in renewing and expanding its fleet.
Sat's own background in the industry – he started as a fitter aged 16 – is reflected in his commitment to staff development, and in particular to the company's apprenticeship scheme. During 2015 A-Plant made its largest ever investment in apprentices, taking on 103 new trainees, of which a quarter were female. We are delighted to honour Sat as our Rental Person of the Year."
AWARD 6
Lifetime Achievement Award
Chris Wehrman
CEO, American Rental Association
WHAT THE JUDGES SAID:
"Christine Wehrman, the Executive Vice President and CEO of the American Rental Association (ARA), is retiring later this year after sixteen years with the organisation. She leaves the ARA in extremely good health. It has record membership levels; is acknowledged as an authoritative source of rental statistics; and has maintained and expanded the status of the annual Rental Show as a global meeting place for the industry. Under her leadership, the ARA has strengthened its government affairs operation, helping influence government decisions that impact on rental and advising members on the new legislation. Christine Wehrman deserves the respect and gratitude of the wider rental industry for her efforts to globalize and professionalise the rental industry. We wish her a long and happy retirement, when it comes."
The judges were: Murray Pollok (IRN), Martin Schickel (Liebherr Mietpartner), Michel Petitjean (ERA, non-voting chair), and Pierre Boels (Boels Verhuur).
For images and more details from the awards ceremony, see the June issue of IRN.