Excavator update
By Chris Sleight09 May 2008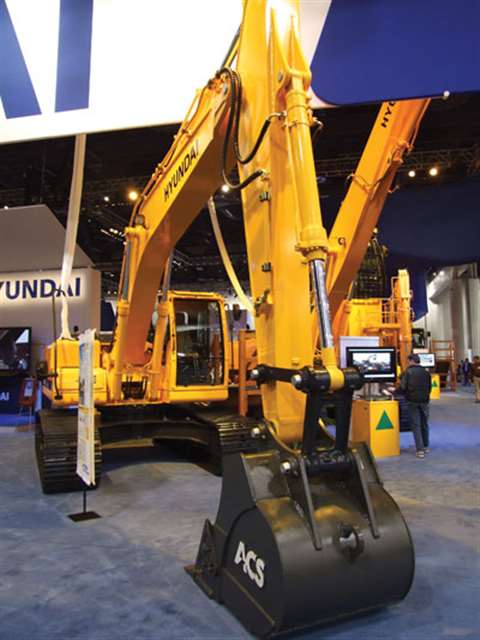 Hyundai has unveiled the first in its new range of Dash-9 excavators, which will replace the current Dash-7 models from the end of this year. Last month's ConExpo exhibition in Las Vegas, US saw the company take the wraps off the 21 tonne class Robex 210LC-9.

Operator comfort is a big feature of the new range, which features a brand new cab design. This includes reduced noise levels, air-conditioning as standard, joystick controls (with lever-pattern change options), and a new control panel with on-board monitoring system and a built-in rear-view camera

This particular model is powered by a 107 kW Cummins QSB 6.7 Tier 3 engine, which is quiet and clean and meets all current noise and exhaust emission standards. Hyundai's 'smart' hydraulic system allows the operator to choose between digging modes and power settings to maximise utilisation and fuel economy. An additional advantage is the provision of variable oil-flow and pressure settings for auxiliary attachment operation.

Service and maintenance have been given close attention, with the inclusion of a GPS tracking system as well as remote machine monitoring access. In addition, service intervals have been extended to 1000 hours for filter changes and 5000 hours for hydraulic oil changes.

The first of the new Dash-9 models (which will include the R140W, R210, R250 and R290 models) will be released for sale in Europe and North America during the fourth quarter of 2008. The rest of the line, right up to the 50 tonne R500, will be made available throughout 2009.