Excavators and wheeled loaders from Hitachi
By Sandy Guthrie23 March 2016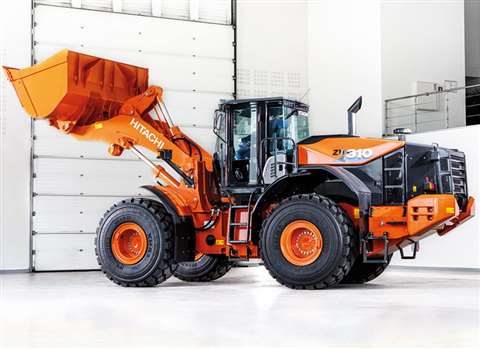 Hitachi Construction Machinery (Europe) – HCME – will present its Zaxis-6 range of medium and large excavators at Bauma 2016, promising new technology, a more comfortable and intuitive operator experience, and enhanced productivity and fuel efficiency.
The new ZX490LCH-6 (or Zaxis 6) large excavator, is designed for use on large-scale construction projects and quarries.
The machine incorporates technology developed specifically for its use, including two pumps and control valves to reduce fuel consumption. Hitachi said the hydraulics should also improve productivity, thanks to an efficient swing, boom lowering, arm and bucket roll-out.
New technology also claims to assist in lowering the Zaxis 6's emissions and reducing noise, with its diesel oxidation catalyst, urea mixing pipe, selective catalytic reduction system and silencer.
The excavator boasts a boom reinforced with thicker plates, and robust components in its undercarriage, including the track link, master pin, idler pedestal and bracket.
Another Hitachi excavator debuting at this year's show is the ZX250LC-6, another Zaxis 6 machine.
This medium machine, designed for use in general construction work, is equiped with a TRIAS II system that reduces the amount of hydraulic oil returned to the tank as a result of the co-operative control of the pump and valve. Via this system, Hitachi promises a 19% fuel saving in ECO mode and a 10% saving in PWR mode, with no reduction in the levels of productivity.
Three track guards – as opposed to just one on the equivalent Zaxis 5 model – are said to increase the machine's durability and also strengthen the undercarriage, and help reduce damage caused to the track link.
The larger medium ZX300LC-6 excavator will also be displayed for the first time at the show, with similar technological advances and a new six-cylinder 186kW Stage IV-compliant engine, featuring the highest engine output in its class.
HCME is bringing its new ZW-6 range of five wheeled loaders to Munich, including three new compacts, built in Germany, and two larger machines developed in Japan.
The 4.7 to 5.4-tonne machines claim to offer quick and easy connections for attachments with an electro-hydraulically operated quick coupler, while operators have improved visibility of the fork attachment, allowing greater precision and safety, said the company.
The compact loaders have a self-stabilising articulated pendulum joint, aimed at improving stability, durability and control.
The ZW220-6 loader has a Stage IV-compliant engine that does not require a diesel particulate filter, and Hitachi said it used 7% less fuel in load and carry operations and 6% less fuel in V-shaped loading than the previous model.
The ZW220-6 has a 360° panoramic view from the cab and a rear-view camera. Changes to the wheeled loader's design, such as the alignment of the muffler and air intake, are also said to have also enhanced the rear-view visibility.
The largest of the new wheeled loaders, the ZW310-6 includes many of the features common to its smaller counterparts, including the enlarged cab and ergonomic positioning of controls.
Noise levels in the cab have been reduced with improved sound insulation, while a ride control feature is said to minimise pitching via the movement of lift arm cylinders. A multifunctional LCD monitor in the cab is standard, while a repositioning of the muffler and air intake has also enhanced rear-view visibility.
Efficient loading with the ZW310-6 is ensured by a 25% improvement in traction force compared to the previous model.