Exclusive: JCB Inc's CEO John Patterson talks to ALH
By Lindsey Anderson16 April 2009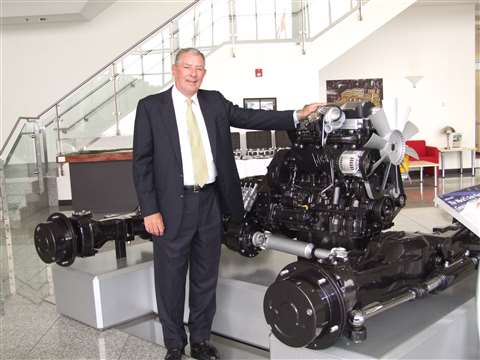 JCB Inc's chief executive officer John Patterson said the decision to move telehandler production from the company's Pooler, Georgia facility to its United Kingdom manufacturing facility was based on product-defined business units, which breaks the company into different sectors that focus on one or two products per unit. The product market is then broken down by region and manufacturing follows suit.
Patterson, speaking exclusively to American Lift & Handlers, said, "What was interesting is that when you looked at [company] performance over the past 10 years, it's quite clear to me that those businesses that are product-specific perform much better financially, market share wise, etc., than a business unit that has multiple products under the same roof. So we've taken the opportunity to these businesses that were multiple products, to break them down into single-product business units on the basis of performance."
JCB's Georgia facility now focuses solely on skid steers, which have a 60 percent North American market share, Patterson said, and backhoe loaders for the US Military, which, under contract, must be manufactured in the United States.
"When you see markets decline the way they are worldwide, it's best to consolidate, having more concentration in a single plant," Patterson said. "It was driven from a restructure of the group business rather than an American issue."
Patterson spoke about JCB's North American telehandler line, which has expanded from three models to four models - including the 506, 507, 509 and 510. The "refreshed" 506 was based largely on customer feedback, Patterson said. The unit has updates including: rear axle stabilization that locks the rear axle pivot so stability of the machine goes from a triangle to a rectangle, which results in a more stable machine.
It also has a more modern cab that is lower to the ground for ease of entry and exit, and a servo control that allows operators better control of the boom at all times. The transmission of the telehandler is now a powershift transmission and the tele's engine placement is now positioned in the same place as all other JCB Loadalls, giving maintenance an easier access point.
Patterson also said that while compact telehandlers are a current trend, large-capacity telehandlers are gaining momentum and that JCB will be manufacturing a 12,000-pound-capacity machine. "It will be off the same platform as the 10,000-pound machine, just a larger scale model," Patterson said. However, due to the current market downturn, JCB does not have an expected manufacturing date for the new machine.
For more of JCB's exclusive interview, see the May/June 2009 issue of American Lift & Handlers.