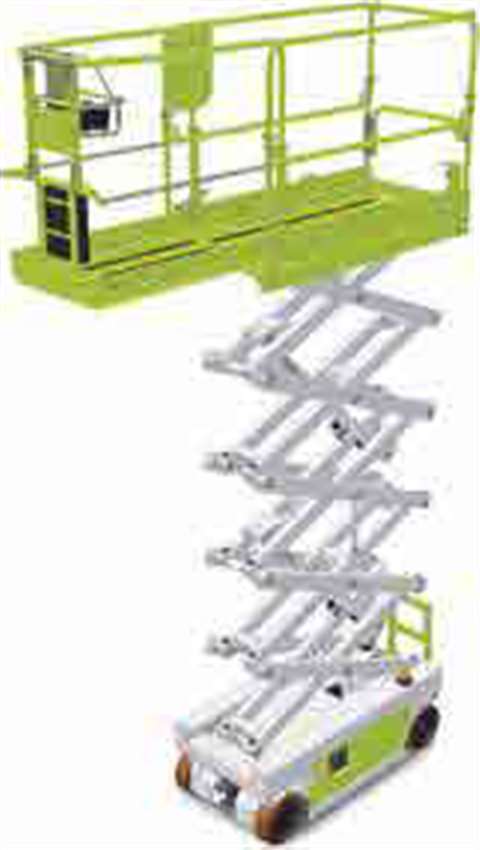 3B6 Sistemi Electronici
The Italian company will show a selection of its electronic devices for aerial platforms and other mobile equipment, including area limit, moment limit, load limit and self-levelling devices, and global electronic control systems.
Access International
Access International is the official sponsoring magazine for APEX and organizer of the APEX Conference and exhibits at APEX with publisher KHL Group. See stand 1010.
Access Systems Climber (ASClimber)
Madrid-based Access Systems Climber (ASClimber) specialises in rack and pinion access systems, in particular mast climbing work platforms and hoists. The company says a new modular hoist and work platform system will be launched at APEX.
Aichi Europe
Aichi will be introducing a range of new equipment in the coming 12 months, including scissors and articulated booms. Airo Tigieffe A selection of battery-powered &Industrial Line' and diesel-powered &Building Line' boom and scissor lifts from this Italian manufacturer.
AJ Access Platform
AJ Access is a used platform specialist and will be using APEX to emphasise the buoyancy of the used equipment market as a result of the long lead times for new machines from the major US manufacturers. The company will also have details of the 130 platforms recently added to its sales inventory with the acquisition of the rental fleet of Lloyds British.
Alp Lift Hoogwerksystemen
ALP Lift will show the latest addition to its line of personnel lifts, the PHCHI series, which does not require outriggers.
Altrex
Altrex introduces the new Modular Triangle Bridge (MTB), an access system available in lengths of 2 m, 3 m and 4 m and designed for use by painting, plumbing or facade renovation companies. The bridge system can be used to span between separate vertical support stands, rolling access towers or facade scaffolds. Also on show will be additions to its modular suspended platform range. The company is also looking for new international dealers.
Anton Ruthmann GmbH & Co
See entry for Ruthmann.
Aron
See Brevini Group.
Barin
Barin will show a selection of its truck-mounted platforms and specialist underbridge inspection units, including the AP 60/30, "the only 60 m working height mounted on a 32 t GVW vehicle that can travel without special permits". Barin shares its stand with fellow Italian manufacturer CMC – the two companies recently signed a sales cooperation agreement.
Battery Charger Industry (BCI)
Battery chargers for aerial platforms from the Italian company. Battery Supplies (Dyno Europe) Dyno Europe will show a complete range of deep-cycle batteries, maintenance-free batteries, semi-traction batteries and full-traction batteries. New at APEX will be the AQ-TRON waterproof battery chargers designed for mounting on all types of scissor lifts. The company will also be offering service for Lestronic battery chargers from September onwards.
Bison Palfinger
The highlight on Bison Palfinger's stand will be the new TKA 61 KS, a 61 m working height model with a lateral outreach of 39 m, and the biggest aerial work platform ever built by Palfinger. Also on show will be the 28 m TKA 28 KS.
Bizzocchi Oleodinamico
APEX will have the world debut of Bizzocchi's latest Autel range, the 22.5 m working height 230 HP mounted on a 3.5 t GVW chassis and with an overall length of just 6.84 m. The company will also exhibit two other truck-mounted platforms.
BPE electronics
A selection of control and safety systems for aerial platforms, including strain gauge transducers and load cells.
Brevini Group
Six companies from Italy's Brevini Group: Aron (pressure control valves), Brevini Hydraulics (proportional directional control valves), Brevini Riduttori (power transmission systems), Hydrapp (power-packs, gear speed increasers), SAM Hydraulik (hydraulic transmission systems) and VPS Brevini (hydraulic components).
Brevini Hydraulics/Brevini Riduttori
See Brevini Group.
Bronto Skylift
One of the true high points of the show: Bronto will show the industrial version of the 90 m machine it launched at the fire fighting Interschutz show in Hanover in June. This machine has been bought by rental company Maes. Also on show will be the S 46 XDT and S 52 XDT models.
CMC
CMC, which shares its stand with Barin (with whom it now has an international sales alliance), will show both its PLA 210 and PLJ250 truckmounted models.
Comabi
The French company Comabi will show a selection of its scaffolding and self-propelled personnel lift products.
Comet
This Belgian manufacturer of utility vehicle mounts, and daughter company of EGIE in France, will exhibit several of its insulated and non-insulated utility platforms.
CTE
CTE will launch the new CTE Spider 135 and 175, tracked models with working heights of 13.5 m and 17.5 m. Also on show will be the Z26 and Z20EL truck-mounts and the SPD 260 C mini-crane.
Dakota Shine UK
Dakota Shine UK is the new European dealer for Dakota Shine in the US, which makes a system that rejuvenates the appearance of old aerial platforms and other construction equipment. The company is already demonstrating the process to major rental companies in the UK and elsewhere and will use the APEX show as its official European launch.
Dk Rental
Dk Rental, which sells and rents scissor lifts, articulating and telescopic booms, material lifts, forklifts and scaffolding, has recently established a used equipment division and has 200 aerial platform machines for sale.
Denka Lift (Worldlift Industries)
See entry for Worldlift Industries.
Dino Lift
A range of machines from the Finnish trailermount specialist, including the DINO 135T trailer and the self-propelled DINO 240RXT, both launched last year.
European Rental News (ERN)
Access International's sister magazine for Europe's equipment rental industry will be attending APEX with publisher KHL Group (stand 1010).
Easiuplifts
Irish seller of new and used aerial platforms and sister company to access rental company Height for Hire.
EGIE
French truck-mounted platform manufacturer EGIE will be represented at APEX by its Belgian daughter company, Comet.
E. Falck Schmidt A/S (Worldlift Industries)
See entry for Worldlift Industries.
Emrol
Emrol, a battery distributing company focused on the Benelux market, will show the AlfaBat, a device that measures how a battery has been used while on rent with a machine. Also being shown is the company's Multipac charger that allows you to charge all batteries with only one charger; and the Extreme, an on-board charger assembly for scissor lifts. The company, which represents Trojan Batteries in the Netherlands, will also announce a move into Germany during 2006.
Entre Marketing
Export marketing organisation for Finnish companies. Formerly known as Finpro marketing.
Esda Fahrzeugwerke
The German trailer- and truck-mounted platform manufacturer has recently become German dealer for Italy's Socage, and will show the Socage DA19 truck-mounted platform. Esda will also show two of its own machines, a TA truck-mount and a TL trailer.
Eurosupply Hoogwerksystemen
Eurosupply is Benelux dealer for Niftylift, Hitachi and Kesla, as well as offering a variety of maintenance and training services.
Exact Software
Exact is a specialist in software for rental companies and field service companies, as well as producing software for CRM (customer relationship management), ERP (enterprise resource planning) and financial accounting.
Exide Technologies Nederland
An industrial equipment battery specialist.
Ferrari International 2
Ferrari will present the new GSCV 2 fibreglass basket for aerial platforms. The basket has a base reinforced with marine plywood and one side opening. The company will also show a selection of its hydraulic rotators, links and hooks, buckets, lifting and recovery winches, pumps and other accessories for access equipment.
Fixator
French suspended access manufacturer.
Fraco
Fraco will introduce the new FRSM-1500 mast climbing work platform, which offers a 680 kg lifting capacity at a speed of 4.1 m/min. The platform, which can be assembled by hand in less than 30 minutes to its freestanding height of 11 m, can be folded entirely into an all-included compact kit for easy transport.
Fronius International
Fronius is an Austrian manufacturer of highfrequency battery chargers for aerial platforms and says they are "perfect" for mounting onboard equipment.
Gemmo Group Srl
New from undercarriage specialist Gemmo is an articulated, tracked undercarriage that will "guarantee stability either in the truck loading phase or when negotiating steps". The company will show rubber, steel and motor-driven &ready to mount' undercarriages.
Genie Industries
The highlight on Genie's stand (at least for European visitors) will be the new Z-51/30J RT articulated boom that has been developed only for the European market. It has more height and reach than the Z-45/25, and higher ground clearance, but maintains a compact footprint. Also on the stand will be the new GS-3390 scissor with oscillating axle (its first showing in Europe); the 8 m GR20 Runabout vertical mast platform; and the massive Z-135 boom launched earlier this year.
GSR
GSR will show a selection of its truck-mounted platform equipment.
Haulotte Group
Haulotte promises "only new products" at APEX this year. These will include the 41 m working height HA41PX articulating boom – the biggest ever built by the company; the 26 m HA260PX (replacing the HA26PX); and a new version of the Star 10 vertical personnel lift. Also new is the SXL range of 12 m, 15 m and 18 m RT scissors. There is also the possibility that Haulotte will show the first of its newly-developed range of truck-mounted platforms – the 18 m HTB 18 – although this was not confirmed as AI went to press.
Helac Corporation
Helac supplies a variety of rotary actuators to aerial platform manufacturers.
Hematec Arbeitsbuhnen
Hematec is Dino Lift's dealer in Germany and will show at least one model, probably the 16 m trailer unit, from its line.
High Set Tecno (Leguan Lifts)
HS Tecno will show the new driving system being used on the Leguan 125 series of articulated boom lifts. Each wheel now has a direct, on-wheel, hydraulic driving motor which gives more driving power, 50% more speed, and the capability to use bigger wheels, which means 50% more ground clearance.
Hitachi
Exhibiting with dealer Eurosupply, Hitachi will show a selection of its crawler-mounted platforms.
HKS Dreh-Antriebe
HKS makes hydraulic, pneumatic and mechanical components and systems used in aerial platforms.
Holland Lift International
JLG's acquisition of the Liftlux range has refocused attention on the big-scissor market. Holland Lift, which has been specialising in large scissor models for years, will be determined to use APEX to show that it can offer an alternative to the JLG product.
Hydr-app
See Brevini Group
IMA (Faraone)
The Italian company will have a representative selection of vertical personnel lifts, ladders and material lifts on its stand.
IPAF
The International Powered Access Federation (IPAF) is an official supporter of the APEX show and will use the event to promote the safe use of aerial platforms as well as its network of accredited training centres. It will also be looking for potential new training centres worldwide. IPAF represents the interests of access manufacturers and equipment buyers and users – so if you have any questions about the business, someone on the IPAF stand will be able to help.
IPS (Independent Parts & Service)
IPS is a powered access parts and service specialist with offices and parts stores in the UK and Australia. The company has also just opened an enlarged European parts and service hub in Germany, at Erkrath, near Dusseldorf.
Isoli
Isoli will exhibit its 20.5 m working height PNT 2005 model, mounted on a 3.5 t GVW Nissan chassis. This machine was first seen at the SAIE show last year.
Italmec Aerial Work Platforms
Italmec has built over 1500 truck-mounted platforms since 1981, but has now added the crawler-mounted Ranger series to its range of products. On show will be the 16 m R16 version as well as the new 20 m working height RJ20, which has a stowed width of just 0.89 m.
Iteco
Iteco is launching a new generation of scissor lifts and articulating platforms. On show will be several of the new scissors, which have been totally renewed "to be competitive in an increasingly more discerning market." These will include the 80 series, with working heights from 6.6 m to 9.3 m, the 90 series (8.30 m to 12.2 m) and the 122 series (12 m to 14 m). New 15 m articulated booms are also planned – see the Iteco stand for details.
JLG Industries
JLG will exhibit one of the two new &Tow-Pro 10.5 m/15 m trailer-mounted platforms, and one of the two new narrow Liftlux electric scissors, either the 153-12 or 180-12 (15.3 m and 18.0 m platform height models with 1.2 m widths). Also on show will be two Toucan platforms, a 510AJ boom and a reconditioned 600SJ boom to promote the used and reconditioned equipment division based in Tonneins, France. A 307 or 266 compact telehandler and 4013 construction handler will complete the line-up.
Kesla Oy
Finland's Kesla will show its new 19 m XS190 selfpropelled platform.
KHL Group
Copies of all KHL magazines – including Access International, European Rental News, Construction Europe and International Construction – will be available from the KHL Group stand (1010).
Kluytmans Service
Kluytmans exhibits at APEX with Bizzocchi, for whom it is Netherlands dealer. See Bizzocchi entry for product details.
Kors Hoogwerksystemen
Kors will show the new self-levelling Frisia Lift crawler-mounted scissor lift manufactured by HTN. Kors also represents Omme in the Netherlands – see Omme entry for product details.
Kwak Hoogwerker-Centrum
Kwak is Netherlands dealer for Anton Ruthmann. See Ruthmann entry for details.
Leader
Leader launches two new products: the Spilift 160, a 16.5 m working height crawler-mounted platform with a stowed width of just 0.78 m and a weight of 1.9 t, and the truck-mounted Cicogna 200, a 20 m working height unit with telescoping lower and upper booms. This machine offers an outreach of 8 m at an up-andover height of 9 m.
Leguan Lifts See entry for High Set Tecno. Lehmann Zugangstechnik Lehmann will proudly show two vertical mast platforms: the EMU ST-K 1003 and the new 12 m working height EMU ST-K 1205, which offers a maximum outreach of 5.15 m and a transport width of just 0.98 m.
Lionlift
Lionlift will show its new crawler-mounted GS 15-08 platform. The company also makes the Galaxylift range of telescopic and articulated truckmounted platforms.
Manitou
Manitou will show a selection of its self-propelled boom, scissor lift and industrial vertical mast products, including the recently launched 160 ATJ, a 16.25 m working height articulating boom with a 9.1 m outreach.
Manumag
French lifting equipment magazine.
Matilsa
Spain's Matilsa will show a selection of its trailermounted and self-propelled articulated booms. The latter are notable for their use of outriggers.
MEC Europe
MEC in California will use APEX to mark its launch into Europe. The company has appointed Platform Sales Europe (PSE) to act as its &master' distributor for Europe, operating through a new division called MEC Europe. Likely to be on show at APEX will be the 1932, 2033, 2633, 2647 and 3247 models, as well as one of the unique Phoenix machines with the &side shuffle' wheel design.
Merlo
Italian telehandler specialist Merlo will show its latest Space11 access system for lifting two people and tools. The system comprises a self-contained telescopic boom with its own elevating and slewing functions, fitted with a personnel platform, which adds an extra 11 m of working height to suitably prearranged Panoramic and Roto handlers. Space 11 system is mechanically fixed to the standard fork carriage of the base handler.
Moba Mobile Automation
Moba showed its MRW single-point weighing cell at APEX 2002, and 16 manufacturers have since fitted it to their boom platforms. This year, Moba will launch a "four point limitation system for scissor lifts as well... Additionally, we will surprise our visitors with customised human/machine interfaces, inclination sensors and controllers, all in CAN technology".
Modern (Int'l) Access & Scaffolding
Modern is a Hong Kong/Chinese joint venture scaffolding manufacturer and contractor, renting out and installing scaffolding. The company also runs a growing powered access rental fleet. The company's manufacturing arm is known as Modern (Int'l) Engineering.
Nacanco
Nacanco is an aerial platform sales, rental, service and training organisation. It has a fleet of 2300 access equipment units located at 11 depots in Spain and three in Italy.
Niftylift
Niftylift exhibits with Benelux dealer Eurosupply and will have among its products its new 15 m 150T trailer. The company also makes self-propelled articulated booms, vehicle-mounted platforms and vertical mast products, as well as specialist machines such as road-rail platforms.
Nihon Bisoh
Nihon Bisoh is Japan's largest manufacturer and renter of suspended access platforms and a lightweight hoist for ulta-high-rise buildings launched last year.
NorAcon
Norway's NorAcon makes aluminium-based building maintenance units (BMU), including monorail systems, climbing systems, light roof cars, as well as custom-designed access ladders and gantries.
Oil & Steel
Oil & Steel, the Italian manufacturer of truckmounted and tracked machines, will show at APEX the three models it launched at last year's SAIE exhibition in Italy: the Octopussy 1765 and Octopussy 14-12 tracked units, and the 3.5 t GVW Snake 2190 Metropolis truck-mount.
Omega Lift
Netherlands manufacturer OmegaLift will show its newly launched OmegaLift NS260-600, a 26.5 m working height model which is only 1.24 m wide. The scissor can be used inside and outside. Other models in the range include 19 m and 22.5 m working height units.
Omme Lift
Exhibiting with Netherlands dealer Kors, Omme will show the new Omme 1930R tracked machine, which is a 19 m working height model with transport dimensions of 5.91 m (L), 1.1 m (W) and 2.07 m (H). Also on show will be one of the largest trailer-mounted platforms in the world, the 25 m working height 2500EBDZ.
OP Pagliero
Pagliero shows its first-ever articulating boom 3.5 t truck-mount, the 20 m working height MX200. This machine will offer an outreach of 9.2 m and an up-and-over height of 9.2 m. The company will also have details of the two 85 m working height models it is currently building for Italian rental companies (see News this issue).
Oxley
Italy's Oxley sells new and used aerial platforms – including Teupen, Airo and Socage in Italy – and offers aerial platform rental and servicing. The company also sells fleet management systems and platform control technology.
Oy Scaninter Nokia
Scaninter will show a wide range of the Scanclimber mast climbers and hoists, including the latest hoist model, the 2000 kg/25 person capacity SC2032.
Palazzani
Palazzani will show two of its newest Ragno crawler platforms: the 23 m working height TSJ 23 and the 39 m TSJ 39. The TSJ 39 is equipped with a new system that automatically self-levels the outriggers and increases the working outreach.
Palfinger Europe
See entry for Bison Palfinger.
PB Lifttechnik
Germany's PB Lifttechnik will show a selection of its self-propelled platforms, including scissor lifts and vertical lifts. It also makes purpose-built platforms.
Perk Elektrotechnlek
Perk will launch the Service Tracker ST-100 at APEX. The ST-100 is a small device that will log a machine's operating hours and indicate when service intervals have been reached. It will also communicate with hand-held computers via an infra-red link. Perk is the European certified repair centre for US company OEM Controls, which produces joystick controls and electronic control systems for aerial platforms.
Plumettaz
Swiss manufacturer Plumettaz makes a wide range of products and components including winches, cable feeders and hoist units. For the access sector it produces components used in suspended platforms and building maintenance units. It will use APEX to highlight several new products: the Syncrowinch SW 400/500 (dual), a twin-drum, dual-suspension, stage-mounted hoist; the Syncrowinch SW 400/500 (mono), a twin-drum, single-suspension, stage- or roof-mounted hoist; the CD-4 twin-drum hoist for personnel lifting on BMUs; and the CP-4 twin-capstan hoist for personnel lifting on cradles for BMUs and cooling tower/chimney/dam maintenance.
Porello G Battista
The Italian manufacturer will show a selection of its narrow-tracked &Spider' type platforms called the Polar range, which includes the new 16.5 m working height model. The company also makes tracked carriers and access baskets.
Ruben Power
Ruben Power supplies electronic components and systems for material handling and access equipment, including IES battery chargers, joysticks from PQControls and ITT-Canon and motor speed controllers from Sevcon. At APEX it will show the Macbat battery regenerator, which restores the energy of old, or long unused batteries suffering from sulphation. Ruben says the regenerator will double the lifetime of a well-maintained traction battery.
Anton Ruthmann
Germany's Ruthmann continues to introduce new models in its revamped T range. The line already includes 22 m and 27 m models, and the company will launch the 37 m working height T 370 model at APEX. Also on the stand will be the company's wellestablished TU 700, a 70 m working height unit.
SAM Hydraulik
See Brevini Group
Safi
Safi will show its Delta and 2500 kg capacity Vision mast climbers models as well as the Junior material hoist.
SEV Aerial Access
SEV Aerial Access will be showcasing leading models from its range at APEX for the first time, including the world premiere of a new trailermounted platform. Details of the new machine are not being released before the show. Included on the stand will be the all-terrain Pioneer, a dumper-mounted platform offering a 17m working height and 7.9m outreach. SEV is now owned by Tanfield Group, an engineering firm and manufacturer of commercial electric vehicles.
Sky Climber Europe
Sky High Europe in Belgium is the European subsidiary of Atlanta, US-based Sky High, which is one of the pioneers of the suspended access sector. The company will show its Compact, CX 500, Alpha 800 electric products, as well as examples from its ranges of air-powered and permanent BMU platforms.
Sky-High
Belgium's SKY-HIGH will exhibit its new 13 mworking height Sky-High ST 130, a successor to the slightly smaller ST 120 self-propelled model. Outreach on the new model is 7.5 m, and it is only 1.5 m wide. Also new is the Sky-High 120 MC mounted on a pick-up truck, which replaces the Sky-High 1100 MC.
Skyjack Europe
Skyjack will show ten of its wide range of electric and diesel powered scissor lifts. However, there are several new things to look out for: one is a 26 ft (7.9 m) scissor that will be a lower budget version of the existing 7127. Also, rumours persist that the manufacturer is soon to launch a range of telescopic and articulated booms – that's a question to ask on the company's stand.
Sky man international
Suspended access specialist Sky man International will show its new UL-approved H1000Lbs hoist with a capacity of 450 kg. The company says it will have a "special introduction package, which will only be available during the Apex show". Also on show will be its Towerhoist product – a personnel hoist for use on wind turbine towers – and details of its recently developed turbine blade access equipment (see News this issue).
Snorkel International
Snorkel will show its new S2646 and S3246 scissors as well as the TB47J telescopic boom with jib. Snorkel says it continues to focus on "ease of maintenance, low total cost of ownership, superior dependability and great re-sale value."
Socage
Socage, which is part of the Fassi loader crane group, will show updated versions of its crawler mounted Navaho platforms, the DA 222 and DA 220 with 22 m and 20 m working heights, respectively. Also new is the Cheyenne TJ27, a telescopic platform equipped with fixed jib and to be installed on trucks from 7.5 t GWV, and the Cheyenne TJ30, mounted on a 12 t truck. The company is also launching redesigned versions of its light duty Apache series, including more rigid versions of its DA 222, DA 220 and DA 219 models.
Sodineg
The French used construction equipment specialist will have details of its current list of available used aerial platforms.
Sumner Manufacturing Co
Sumner makes manually operated material lifts with capacities from 135 kg up to 680 kg. At APEX it will showcase the small Lil' Hoister material lift and the Caddy Mac cable drum carriers. Sumner says these products "are new to Europe and due to health and safety issues for lifting 25 kg and over they solve many issues over loading access platforms and support work."
Svelt
Svelt will show a selection of its professional aluminium scaffolds, ladders, stepladders and material hoists.
Teupen Maschinenbaugesellschaft
Teupen will exhibit its new crawler-mounted Leo 23 GT machine, as well as the massive 50 m Leo 50 GT that has recently been bought by Belgian rentalcompany Maes (Its second Leo 50).
Time Export
Time-Export, the European subsidiary of Time Manufacturing Company in Waco, Texas, sells Versalift and Condor lifts in Europe, the Middle East and Asia Pacific. The company will show two of its most popular models: the Versalift ET-30-NEXS, a 10.5 m working height model mounted on an Opel Vivaro, and the 13.5 m working height Versalift ET-36-NF on a MB Sprinter.
Trojan Battery Company
Trojan Battery Company makes batteries for aerial platforms and other commercial and industrial equipment. Trojan is exhibiting at APEX with its Netherlands dealer, Emrol.
TVH (Group Thermote & Vanhalst)
TVH is a worldwide distributor of access equipment parts and used aerial platforms. The Belgiumbased company has over 200 used platforms in stock and carries 85000 parts references.
UpRight
UpRight will show six products from its range at APEX: the TM12 vertical mast unit; the MX19 scissor; one of its X series scissors; the SL30 Speed Level; the AB38 articulating boom; and the Span 400 ladder frame.
VPS Brevini
See Brevini Group.
Vertikal Verlag/Vertikal Press
Publisher of lifting equipment magazines.
Worldlift Industries
APEX will be the first show for Denka Lift and E Falck Schmidt following the two companies' merger into Worldlift Industries. As well as showing new equipment – the Denka DLX15 trailer and the compact, lightweight (3.8 t) Falcon 32 m unit – Worldlift will use the show to &launch' itself into the market.
Wumag Elevant
Wumag will introduce the WTB 220, a lightweight 3.5 t GVW platform with a 22 m working height and 14 m maximum lateral outreach. The company will also show the well-known WT 450 from the Jumbo range and the WT 300 from its Compact line.