Fatal blow for Chicago Spire
By Chris Sleight15 October 2010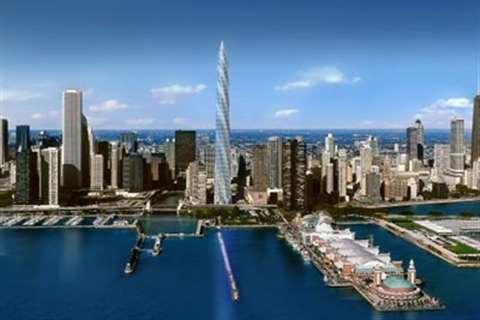 Plans to build the tallest building in the Western Hemisphere have ground to a halt, with one of the financiers behind the Chicago Spire in Chicago, US foreclosing on its loan. The 1200 apartment tower designed by Santiago Calatrava was to have stood 2000 ft (609 m) on the city's Lake Michigan shore.
This week saw Anglo Irish Bank file a foreclosure suit against the developer, Shelbourne Development, for a US$ 77 million loan it said was in default. A spokesperson for Shelbourne Development could not be reached for comment on this.
The spire was originally announced in 2006 following the acquisition of the land at 400 Lake Shore Drive in Chicago by Shelbourne's executive chairman, Garrett Kelleher. The structure was to have 124 storeys, plus an antenna that would take it above the Chicago's Sears Tower and the CN Tower in Toronto, Canada to be the largest freestanding structure in the Western Hemisphere.
The design by Santiago Calatrava was to feature the architect's trademark 'twisting' design, with each floor offset by a few degrees to provide a corkscrew effect. One of the most famous examples of this is the 'Turning Torso' tower in Malmö, Sweden.
Plans called for a US$ 1.2 billion construction programme, and the tower was to include a 5-star, 20-storey hotel as well as 300 luxury apartments and 50000 ft2 (4650 m2) of shops for a total floor area of 920000 m2 (85500 m2).
Construction began in 2007, but there has been no activity on the site for some two years, with foundation construction suspended as pre-sales dried up following the collapse of Lehman Bros in September 2008.
However, some local news reports in Chicago say the site may still be developed by Shelbourne, perhaps as a more modest skyscraper.