Fearon provides tips for emerging market growth
By Euan Youdale21 November 2016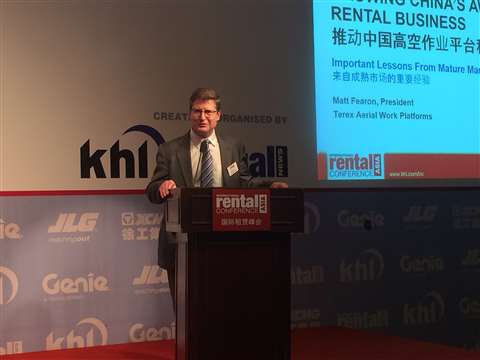 Matt Fearon, president of Genie, provided his observations on the Chinese and wider Asia aerial platform market and what needs to be done for it to develop.
He was speaking at the International Rental Conferences Asia, taking place in Shanghai today. He said China is in the 'growing awareness stage', where platforms are in use but not generally and there is a push from contractors to adopt it on some sites.
There are a number of factors that manufacturers, rental companies and governments must recognise before the sector and grow significantly.
For example manufacturers must avoid financing equipment to companies that cannot pay. "It will destroy rental rates and it takes a long time for the industry to get back from that," said Mr Fearon.
Other areas of importance includes responsible inventory management, in which manufacturers have a responsibility not to over supply. He used the example of Brazil, which had been saturated by machines, as a result, "rates will take a hit for five to six years."
Life cycle support is another example, including service support for the customer but also understanding the value of the asset as it ages. This leads on to training requirements to ensure the equipment owner has the knowledge to work safely and maintain the machine.
As far as rental companies are concerned, they must diversify their fleet ages and models over time, as well as their customer base. This latter point means that rental companies should not concentrate on one or two industries in case one or them declines, like oil and mining.
Machine repairs must be prioritised. "When your machines get to five six or seven years, if you take care of it, it can run for 10 years."
Again, trainning is a vital part of running an effective fleet, as utilising the latest technology, such as telematics.
The Government's recognition of the aerial platform industry is vital too in insuring that it can move forward and that comes in the form of regulations, which are then enforced.
All this will help emerging markets like China.