Feature: Tunnelling
By Chris Sleight18 May 2015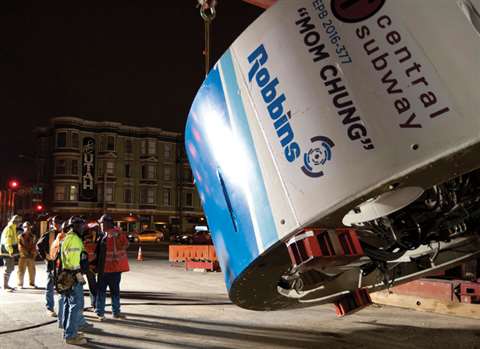 In the tunnel boring machine (TBM) sector, there have been a few changes over recent years among manufacturers. In 2008 Caterpillar acquired one of the established players, Canada-based Lovat. However, only five years later the company announced it was closing the business citing a lack of growth opportunities.
That announcement in May 2013 was followed in February last year with news that Cat was to sell the business to Liaoning Censcience Industry Co., Ltd. (LNSS), which had previously been a Chinese manufacturing partner. Since then, LNSS has reported several successes, with the supply of a TBM to the Nanjing, China Metro project as well as the development of a soft ground TBM, the first of which was sold to giant contractor China Railway Construction Corporation (CRCC).
LNSS has also had some wins outside China, with the announcement in November of an order from Turkish contractor Eferay Yapi Ticaret for a TBM for use on a waste water project in Istanbul.
A deal in 2013 saw Aker Solutions sell the intellectual property for its Aker Wirth TBMs to China Railway Tunnelling Equipment (CRTE).
An early success following the transfer was the contract to supply a slurry TBM to the construction of Line 6 of the Wuhan, China Metro.
France's NFM meanwhile saw one of its TBMs break through on the Sydney, Australia North-West metro project in January this year. That marked 2.1 km of excavation on the 6 km route it will be used on, and NFM said the machine achieved an average advance rate of 35 m per day.
Last year the company also saw the launch of an enormous
15.1 m diameter earth pressure balance (EPB) TBM for the Caltanissetta tunnel in Sicily, Italy. The machine will be used to excavate two tubes on the road tunnel project, each with a length of 3.9 km.
The last year has also seen NFM win a contract from a consortium comprising Salini Impregilo, Larsen & Toubro and Nesma & Partners for a 10.2 m EPB TBM for use on Line 3 of the Riyadh, Saudi Arabia metro. The route is some 40.7 km long, running East-West through the Saudi Capital, with some 6 km underground.
High pressure
Meanwhile a 7.2 m diameter Herrenknecht TBM set a world record for withstanding 15 bar of water pressure last year as it excavated a new water outlet at Lake Mead, the reservoir which supplies 90% of the water to Las Vegas, US.
Although Lake Mead is the largest reservoir in the US, its level has fallen some 35 m in the last 14 years due to dry conditions upstream in the catchment of the Colorado River which feeds it. There are just two outlets from the reservoir to feed Las Vegas, and one of these is now only 7 m below the water level.
In view of this, the Southern Nevada Water Authority (SNWA) commissioned a new deep water outlet, which broke through in December following three years of tunnelling.
The Herrenknecht TBM was launched from a 180 m deep shaft and tunnelled a 4.4 km bore under the lake. During this work it encountered water pressures up to 15 bar, which is equivalent to diving to a depth of 150 m in open water. The company says this is far higher than the previous record of 11 bar, encountered on Sweden's Hallandsås project, which finished in 2013.
The contractor for the scheme was a joint venture between Italy's Salini Impregilo and S.A. Healy, which is based in Chicago, US. They worked with Herrenknecht to develop a multi mode TBM which could cope, with alternating layers of hard rock, conglomerates and fault zones under the lake. The fault zones were partly filled with water from Lake Mead.
Herrenknecht's multi mode design means the TBM can be quickly modified between an open shield machine and a closed, pressurised unit. Over the course of the project, the machine covered about 40% of the distance in the open, hard rock mode and 60% in the closed, slurry-supported configuration.
Jim Nickerson, project manager for the Vegas Tunnel Constructors joint venture said, "We had planned a maximum of 30% of tunnelling in the more difficult closed mode, it ended up being almost 60%. That was a major technical challenge and required extensive maintenance. The fact that we were able to drive the tunnel successfully despite the adverse conditions is the result of very good cooperation with Herrenknecht."
Having achieved advance rates of more than 100 m per week, despite the demanding conditions, the overall work on 'Intake No. 3' is due for completion later this year.
Light rail
Meanwhile, June last year saw a specialised Robbins EPB TBM breakthrough for completion of the twin tunnels of San Francisco, US's Central Subway scheme. The project is the second phase of the San Francisco Municipal Transportation Agency's (SFMTA) Third Street Light Rail Transit Project.
This saw two 2.5 km long tunnels excavated through ground ranging from soft soils to thinly bedded siltstone, shale and sandstone bedrock, as well as concrete diaphragm walls. The TBMs, operated by the Barnard/Impregilo/Healy (BIH) joint venture, were designed with a number of features to help navigate the varied geology, steep grades and turns along the alignment, and to bore in what was rated as "Potentially Gassy with Special Conditions" by California's Division of Occupational Safety and Health (Cal/OSHA).
A mixed face cutterhead was selected to excavate the anticipated wide variety of ground, while active articulation was integrated between the TBM shields to lessen the risks of segment damage, ring deformation, and settlement during boring through curves. Robbins continuous conveyors were used for muck removal throughout tunnelling.
Low cover, nearby utilities, and sensitive structures required analyses and design precautions to limit settlement impact. This was particularly true of a crossing directly below live rail tunnels for the Bay Area Rapid Transit (BART).
Compensation grout pipes were put into place as a contingency, but were not needed when the machines passed just 3.4 m below the rail lines with minimal settlement. The contractor kept a close watch on face pressure, using a mix of foam for conditioning with some anti-clay polymer.
"BIH JV did a superb job driving the two Robbins EPB machines through the tight 137 m radius curves and varying ground while keeping a close eye on face pressures, annulus grouting and steering, producing settlements well below our estimates. In my book, the EPB technology applied here has set a new standard for what can be done in urban soft ground tunnelling," said Matthew Fowler, project manager for the Parsons Brinckerhoff / Telamon joint venture design team, which was in charge of utility relocation and tunnel design.
Now excavation is complete, work on two open cut station sites and one mined site is underway. When Phase 2 of the Third Street Light Rail Project is complete, the 2.7 km (1.7 mi) Central Subway line, excavated at depths ranging from 15 m to 45 m below the city, will extend light rail service through the South of Market and Union Square Districts to Chinatown, as well as provide direct connections to BART and Caltrain, two of the Bay Area's largest regional commuter rail services.
Scheduled to open to the public in 2018, the rail route is expected to serve about 65,000 passengers per day by 2030.
High speed rail
Meanwhile in South Korea a new high-speed-railway is being constructed between Wonju and Gangneung as part of the preparations for the 2018 Winter Olympics. Gusan Construction won the contract to work on Section 10 of the route, where it is using a DT1131i jumbo and RD525 drills and Alpha 330 rock tools – all from Sandvik – to excavate using the drill & blast method.
Samsung C&T is overseeing the project, which is due for completion in 2017, while Gusan's package is scheduled for a November 2016 finish. The new Sandvik DT1131i jumbo has been in operation on the project since December 2014, and Gusan said it has improved its drilling efficiency, increasing the number of metres drilled per hour.
When the company began work on its stage of the project the existing drilling jumbos, although performing at reasonable levels, were not deemed to be satisfactory. Gusan wanted to achieve an improvement in drilling speed, rates of advance and drilling accuracy. After discussions with Sandvik Construction in Korea, Gusan decided to replace the existing jumbo drill rigs with the DT1131i using RD525 rock drills and Alpha 330 rock tools.
It was found that the new Sandvik drilling equipment was able to achieve in 90 minutes what took the previous equipment two and a half hours.
The rig is a computer-controlled three-boom electro-hydraulic unit for tunnelling and cavern excavation from 20 m2 to 183 m2 in cross-section. Features include the iSURE tunnel management programme, the intelligent iDATA control system, and recently launched high frequency RD525 rock drills, along with robust construction.
Serbian roads
In Serbia by two Bulgarian companies, Euro Alliance Tunnels and Roads & Bridges Ltd are working on the € 50 million (US$ 54 million) Manajle and Predejane tunnels, which form part of the EU's Trans-European Transport Network (TEN-T) Corridor X between Salzburg, Austria and Thesalonikki, Greece.
At 1.8 km, the twin-tube Manajle tunnel will be the longest road tunnel in Serbia, while the Predejane tunnel will feature two bores of 870 m and 1,050 m. Preparation work started in September 2013 and the tunnels are scheduled for completion in March 2016.
"So far we have developed about 40% of the tunnels but the geological conditions at Manajle are more complex than we first anticipated," said Stojan Petrovski, general project manager for both tunnels.
According to the original project study, the company was expecting to mostly employ drill and blast techniques and the New Austrian Tunnelling Method (NATM). However, poor ground conditions in places has meant excavation with hydraulic breakers has also been carried out.
Atlas Copco has supplied key equipment two the project – not just the two main drill rigs, a Boomer EC 2 and Boomer LC 2 – but also an HB 1700 breaker.
As well as drilling the 4 m rounds for face excavation, the Boomers are also being used to install tunnel supports. This includes umbrella pattern pipe supports to depths of up to 15 m in the roof. There are also four Atlas Copco MAI 400NT grout pumps on the scheme to fill these pipes once installed, and for installing self-drilling anchors. The grout is provided by two Atlas Copco Unigrout platforms, one for each tunnel.
All of this equipment is covered by a service agreement which includes the presence of an Atlas Copco service technician from Monday to Friday. According to the agreement, Atlas Copco has to respond to any problems within 24 hours and there is also a container for parts and rock drilling tools.
"We have been working with Atlas Copco equipment for a long time," said Mr Petrovski. "We have a good relationship and our operators are used to working with this equipment. I think they are good quality machines, but the most important factor for us when choosing equipment is the service support. This is especially important here in Serbia as the country is not yet in the EU and some processes, such as moving equipment and parts through Customs, can take a long time."
Algiers metro
Peri has supplied formwork carriages to a complex underground metro project in the Algerian capital, Algiers. The scheme to extend the 'Place des Martyrs' station near the harbour will see a 144 m long, 23 m wide arch constructed, making it one the largest subway stations in the world.
This is part of a wider plan to expand the current 9 km long, single-line metro network to 55 km and three lines over the next ten years.
Place des Martyrs features two different cross-sections. The arch has a 23 m span in the middle of the station, but it tapers to 16.5 m at the north and south ends. In order to construct this, Peri designed a formwork carriage based on components from its Variokit range, which could accommodate the changes in cross section. Special attention was paid to the design of the bracing as the concreting cycle length of 5.10 m is relatively short.
Elsewhere on the scheme, Peri has supplied three other formwork carriages. A 9.30 m radius unit is being used on the 'Ali Boumendjel' intermediate station, while two other project-specific formwork carriages are being used for the construction of a new 1.45 km long, 4.50 m radius tunnel.
Road tunnel
The Portuguese government's project to extend the A4 motorway from Amarante to Vila Real is seeing a 5.7 km twin tube tunnel being excavated through the formidable natural barrier of the Serra do Marão mountain. When complete, the scheme will offer a continuous link between Porto on the coast to close to the border with Spain and will be the longest road tunnel in Portugal.
Construction work is being carried out by Empresa Portuguesa de Obras Subterrâneas (EPOS). It began work on the twin tunnels in October 2014 and plans to finish the concreting and paving stages of the project by February 2016. Still on the excavation stage – EPOS has currently dug around 35% of the total length – the contractor has employed 22 pieces of Volvo construction equipment, 13 of which were purchased shortly before the project began.
Part of a larger 71-strong fleet, provided and serviced by independent dealer Ascendum Portugal, EPOS's Túnel do Marão contingent includes four Volvo EW140D wheeled excavators, four L220H wheel loaders, and 14 A40G articulated haulers.
EPOS chose said it chose Volvo equipment for its reliability, high productivity and low fuel consumption.
"On a project like this, where work continues around the clock, 30 days a month, 100% machine availability is one of
our biggest requirements – we cannot risk delay due to unscheduled downtime," said EPOS general manager Dias de Carvalho. "I have relied on Volvo for decades and the quality of the machines, their ease of maintenance and the service provided by Ascendum Portugal has never let me down."