Finance: 26 March - 30 April, 2021
By Mike Hayes23 June 2021
Equipment sales see a slight drop, but contractors remain relatively buoyant as we enter Q2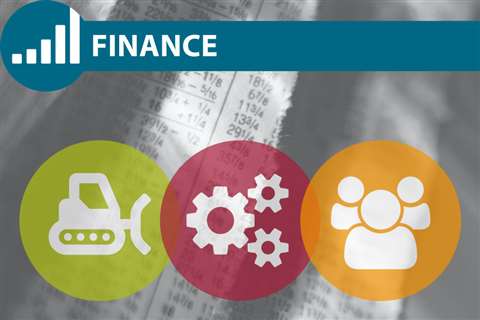 This article will assess the period for listed contractors, equipment manufacturers and material producers from week 13 to 18 of 2021 (26 March to 30 April, 2021).
We have seen 6.7% growth as an average across the three CE indexes over the past month. While positive, this still represents a fall of over 4% from the previous month, and the -2.1% decline seen in this month's equipment index represents the first sign of strain in the market in 2021.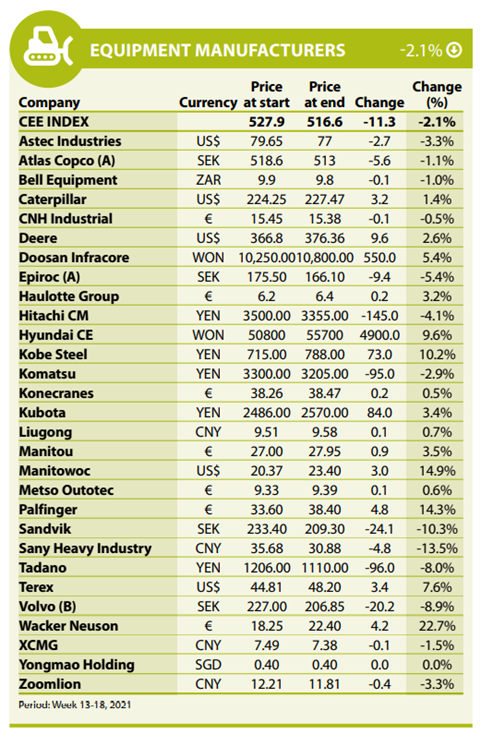 EQUIPMENT
Taking a closer look at the equipment index, Wacker Neuson sits at the top with impressive growth of 22.7%. The German manufacturer, known for its innovation in electric compaction equipment, recently announced it will share its modular battery technology with rival firm Bomag (see our news pages for more on this).
Hyundai Construction (9.6%) and Doosan Infracore (5.4%) also fared well this month, although both have dramatically reduced growth, compared with last month, when Hyundai rose 35.6%, with Infracore not far behind on 30.4%. This, of course, followed the announcement of Hyundai's takeover of its compatriot company.
Overall, US companies have made positive moves, with Manitowoc leading the pack with growth of 14.9%, but Terex (7.6%), John Deere (2.6%) and Cat (1.4%) all moving in the right direction.
Of the American contingent, only Astec Industries is in the red, falling to -3.3%.
Swedish companies, however, have not performed well over the analysis period, with all of those on the index in negative figures and three of them (Epiroc at -5.4%, Volvo at -8.9% and Sandvik at -10.3%) in the bottom five places.
CONTRACTORS
The contractors index, seeing 5.2% growth, is the best performing of all of our indexes. That said, UK firm Morgan Sindall potentially slightly skews the figures with a standout performance of 34.3% growth. The growth appears to be something of an anomaly, with the next-best performing company – Sweden's Peab – seeing less than half the growth (15.1%).
Peab has actually been seeing strong growth since the beginning of the year and looks set to continue positively, with a strong order book and stable market prospects.
Spanish companies are spread throughout the index, but three sit together close to the top of the index. They are FCC (10.2%), Ferrovial (9.4%) and OHL (8.3%).
Sitting quietly in the middle of the index, with growth of 7.0%, is the Dutch firm Royal BAM. It will be interesting to see how the company fares in the next issue, having reported a very healthy €14.1 billion of orders and what it called a 'satisfactory' (and profitable) Q1.
Possibly the most positive news from the index is that, of the 29 companies represented, there are only four in negative figures. No clear pattern can be seen from this group, however; they are Sweden's Skanska (-0.1%), Portugal's Mota Engil (-1.4%), Italy's Astaldi (-3.0%) and, at the very bottom, the UK's Kier (-5.9%).
MATERIALS
A rise of 3.6% in the materials index is, of course, positive, yet represents a fall of 1.5% from the last review period.
The volatility of this index continues with Mexican giant Cemex once again confounding us. After dropping from first to last in the previous issue, this time it has leapt back up to pole position, with growth of 18.9%.
The only other significant mover is Greece's Titan Cement, which has finally pulled itself out of the duldrums with a move up to second position and growth of 15.0%.
Much like the contractors index, the vast majority of materials companies have made positive moves, with just two in negative figures.
These are Switzerland's Schindler (-3.0%) and Finland's Kone (-4.1%).