First time out for latest Mobiscreen
By Steve Ducker24 May 2017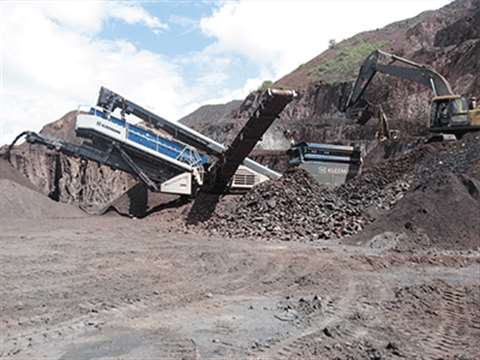 Kleemann, part of the Wirtgen group, will showcase its new Mobiscreen MS 952 Evo mobile classifying screen for the first time at the CTT show in Russia next week.
The classifying screens supplement the tried and tested Evo series, whose screening and crushing plants are characterised by short tooling times, particularly good transport properties and high performance.
The track-mounted classifying screens of the MS Evo range are the latest Kleemann development which can be used in natural stone and recycling applications. The range features two double-deck screening plants and two three-deck screening plants.
Screen area measures approximately 7 sq m (75 sq ft) or 9.5 sq m (102 sq ft) in the upper deck depending on the model.
As it is easy to transport, the screening plant is suited applications at alternating locations and Kleemann says it can be moved quickly and used flexibly. It processes up to 500 t/hr and produces three fraction sizes.
The MS 952 Evo can be fed by a wheeled loader or an upstream crushing plant.