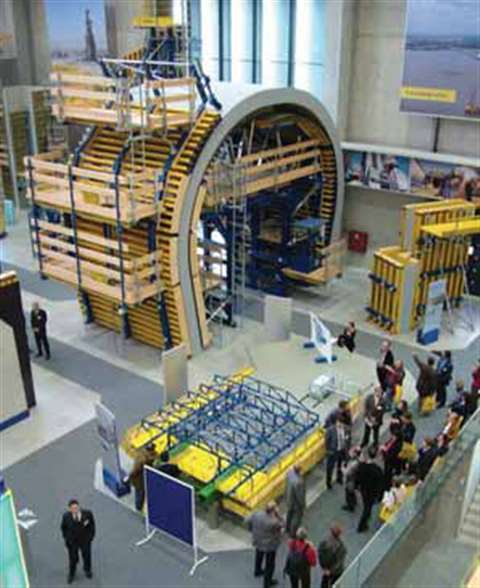 Speaking to iC at the official opening of Doka's new formwork training facility in Amstetten, Austria Joseph Kurzmann, CEO the Doka Group, said, "For several years now, demand for modern concrete formwork systems has been on the rise on the world market. This is mainly due to the overall growth in construction industry demand, and, in a number of markets, to the substitution of system formwork in place of conventional formwork."
To capitalise on this demand, said Mr Kurzmann, and to make up for what Doka perceives as a shortfall in industry knowledge, the company made the decision to open its own training facility; the 3000 m2 "state of the art" Doka Forum. According to Mr Kurzman the aim of the Forum is to give new, and experienced construction workers hands on experience with Doka's products and services.
"By investing in a new training and exhibition centre, [we are] responding to the need for training and instruction among [our] customers and employees. To enable our customers to finish their work as economically as possible, they need not only the right formwork equipment but also the know–how to go with it," said Mr Kurzmann.
With more than 100 branches in over 60 countries Doka expects about 5000 people from all over the world will use the Forum every year. They will get the chance to gain hands–on experience of all Doka's products – wall, floor, self climbing, tunnel and cantilevered systems, load–bearing props and "shifting tables".
In the wallform area, there will be the chance to work with column, framed and timber–beam formwork systems – from its lightweight, hand–set Frami system all the way through to pre–assembled, site–ready Dokaset formwork, according to product manager Helmut Weissengruber.
One of the most impressive zones is for tunnel formwork. Product manager Robert Riesenberger told iC visitors can expect to "see the advantages" of a hydraulic tunnel forming carriage where wall formwork elements are tilted up or folded out at "the push of a button".
Doka's climbing formwork is also on display around a 17 m high, fair–faced concrete wall. "Whether we're looking at crane–dependent or self–climbing systems all the exhibits can be 'climbed' up this wall," said Christian Pimiskern, product manager self–climbing systems, "including our Platform SCP system for high–rise cores."
Students will also have the opportunity to try Doka's Table Lifting System for floor slabs, which was unveiled at this year's Bauma in April. While in the fair–faced concrete zone there is also the chance to see all the finishes possible with Doka's panel systems.
Elsewhere, said Micheal Broichgans, product manager for balanced cantilevering, Doka's ethos of "Safe, Fast, Efficient," formwork technology will be on show in the section of the Forum devoted to bridge construction. "The size of bridge systems means we've had to use 1:5 scale models, but we will be demonstrating safe, fast and efficient design solutions and how these systems work best," said Mr Broichgans.
Besides the practical elements visitors can also use several interactive displays to access information about Doka's products and services. While over looking the work area are a number of "high tech" teaching suites where students will have the chance to use the "latest multimedia technology" to study the theory of Doak's formwork solutions.