Foundations: staying strong
By Katherine Weir16 January 2019
To build big, you need to start deep. From high-rise hotels to multi-lane highways, foundation work is of the highest importance and can dictate the length, productivity and cost of large construction projects. Get this part of the works right, and the project starts off strong. Technological advancements that save time, improve accuracy and quality, and reduce overall costs are king in this sector.
Specialist foundation engineering company Bauer sees digitalisation as the 'game changer' of the foundations industry. Arnulf Christa, chairman of the management board of Bauer Spezialtiefbau, said, "The use of digitalisation will not be limited to design aspects only. We need to reach a much higher level of automated and assisted systems in order to increase performance and quality levels. We also need to implement data management systems on our construction sites and Bauer has already started to roll out new systems worldwide."
As a global contractor, Germany-based Bauer works across both emerging and developed markets. Christa said, "In recent times, the requirement for localised foundation equipment has risen. Whilst we must operate equipment with low emissions in the EU and North America, we can't operate it in developing countries because of the lack of suitable diesel.
"Other modern technology can be used, for example, equipment with low noise emissions, low fuel consumption or ultra-efficient computer-assisted machines. These technologies are, however, not widely used in emerging markets."
In Bangkok, Thailand, a 16.7ha district project is being built as a 'city-within-a-city' opposite Lumphini Park. Thai Bauer has been commissioned to execute the foundation works for the buildings and the diaphragm wall for 'One Bangkok' – a project that comprises five office towers, five luxury hotels, three apartment complexes and multiple retail zones.
The project works will be performed according to Leadership in Energy and Environmental Design (LEED) platinum level, which stipulates particularly strict rules and extremely high standards when it comes to environmental aspects, the company said.
Specialist foundations
The specialist foundation engineering works began in March 2018 and are expected to be completed by April 2019. One Bangkok will be completed in a series of phases, from 2022 until 2025.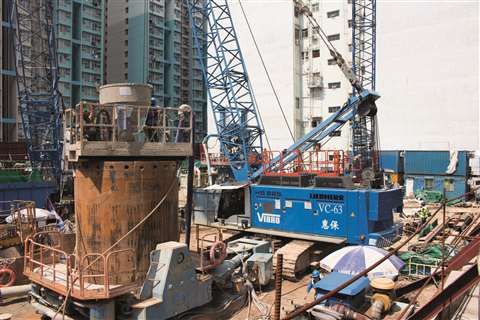 Another example of specialist foundation works comes from Liebherr on a housing project in Hong Kong, with the use of three duty cycle crawler cranes to install 14 piles with a volume of 300m³ each (about 40 truck mixers full) that serve as the foundation for the building.
The first stage was carried out by two HS 885 HD machines and one HS 8130 HD, each fitted with a mechanical grab and an oscillator. The contractor, Vibro, specialises in foundation works with difficult ground conditions and was chosen for this project because of emerging groundwater, followed by rock with a very high strength of 150MPa at the site. To penetrate this hard layer, the reverse circulating drilling (RCD) method was used. In order to achieve the necessary depth of 50m, Vibro required ten working days per pile.
Another challenge came with the restricted space, as the job site was located in the middle of the residential area of Kowloon, bordering existing buildings. Using Eco-Silent Mode from Liebherr, the machines could reduce engine speed to a predefined level, keeping the noise level down for residents.
Liebherr said, "There are differences in application and working depth from region to region. In Asia, they drill large diameters and depths. In Europe, almost everything is cased drilling, but with less working depth. In some regions, for example South America, the ground conditions are very soft and so the drilling machine is not used as much."
Customer-led design
Finnish piling equipment company Junttan has recently released its new high inclination PMx26 piling rig, built for challenging piling requirements. The purpose-built pile driving rig is for all types of driven piles, from steel to wood, with leader capacity of 20 tonnes. The company said the machine can do up to 24m piles in one section and that the biggest impact hammer ram weight recommended is 9 tonnes.
The new design is customer-led from Danish-based contractor Per Aarsleff, who had tried to find a pile drilling rig with these specific features.
The PMx26 can drive piles to 1:3 inclination in all directions, including sideways and forwards. Backwards inclinations are possible up to 1:2.5 angles. Compared to the company's classic models, the PMx26 has a redesigned engine bay and air intake, as well as the base rig being quieter. Junttan's X-series remote control functions allow the rig's software to be updated from the factory as well as adjusting the rig's functions remotely.
Breaking new ground in the UK is Lancashire-based sheet piling contractor Sheet Piling, which has taken delivery of the world's first long-reach telescopic leader rig – TM 12/15 LR – commissioned from rig manufacturer ABI Group to speed up smart motorway projects in the UK.
Built to the precise requirements of Sheet Piling, the rig differs from all others because of its long-reach arm of 8.1m horizontal reach, measured from the centre of the cab's body, to the position in which it is capable of driving steel piles into the ground. Three metres further than any other rig worldwide, according to the company.
The vertical reach is 3.9m and the rig offers a maximum or extracted pile length of 16m. The rig also has an MRZV 20VV vibratory hammer and an MDBA 4000 auger attachment, as well as a Euro Stage IV emissions engine.
The rig can now work from the existing carriageway instead of needing a platform to be built to stand on, saving up to two weeks in project time and up to $77,000 in costs, according to Sheet Piling.
Elsewhere, Italy-based manufacturer Soilmec has recently released its new medium-sized rig, the SR-65 EVO, that is transportable complete with a Kelly bar for an easy 'rig up' to be ready to work in less than 30 minutes. The new model has a reworked geometry with a smart transport configuration, a new range of rotary heads and updated electronic systems, the company said.
It was recently tested on a Prague job site for the construction of over 100 foundation piles with 900mm diameter drilled to a depth of 24m, fifteen of which were cased. In continuous flight auger configuration, it is possible to drill piles up to 26m deep.
Alessandro Ditillo, large diameter pile product line manager at Soilmec, said, "The SR-65 EVO represented an ambitious challenge for our team of developers. The degree of innovation we reached during this project makes the SR-65 EVO a unique machine in the landscape of the equipment for foundation engineering. The SR-65 EVO can be transported with the Kelly mounted on the machine, with a total weight under 65 tonnes and height under 3.5m."
Below the surface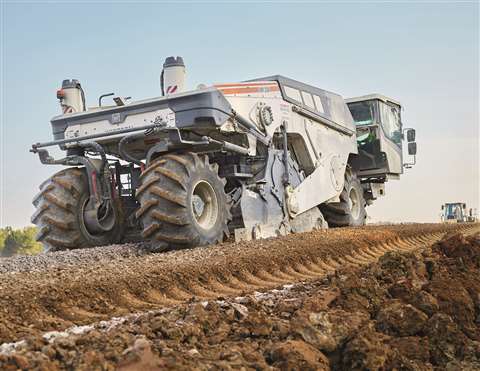 The rotor of the Wirtgen WR 250 blends the pre-spread into a homogenous soil and stabilising agent mix
Soil stabilisation is the method of choice when it comes to ensuring the load-bearing capacity and quality of soil in preparation for road construction projects. Compared to the process of exchanging the entire soil, soil stabilisation is an economical and resource-saving method, according to construction giant Wirtgen.
The manufacturer's WR 250 wheeled soil stabiliser was used to lay a load-bearing base for the construction of a new approach road to Interstate 69, south of Indianapolis in the US. The targeted addition of stabilising agents – such as lime or cement or a combination of both – can help to reduce the moisture content of the existing soil with insufficient bearing capacity, which is vital for further roadworks.
The contractor, Specialties Company, LLC, used lime as a stabilising agent as this reduces the water content and ultimately improves compactability. The 571kW WR 250 – the most powerful machine in the WR series according to Wirtgen – used its engine power and traction to work through the heavy and sometimes deep soil. It mixed the soil and binding agent homogeneously (of uniform structure or composition throughout) across the entire working width of 2.4m to a depth of exactly 30cm, according to the company.
The milling speeds can be controlled from the operator's cabin, so the operator can respond directly to frequent changes in soil conditions, said Wirtgen. It took five days to complete the stabilisation work and lay the load-bearing base for the new approach road to Interstate 69.
USA-based Pile Dynamic (PDI) introduced its Shaft Area Profile Evaluator (SHAPE) in August 2018 to solve the issue of quality control of shaft radius, volume and versatility. The manufacturer, which specialises in foundations testing equipment, said that SHAPE better characterises the three-dimensional profile of drilled shafts and other excavated deep foundation elements. The new device is used for deep foundations such as drilled shafts, bored piles, slurry walls, barrettes to determine the excavation dimensions and versatility.
Connectivity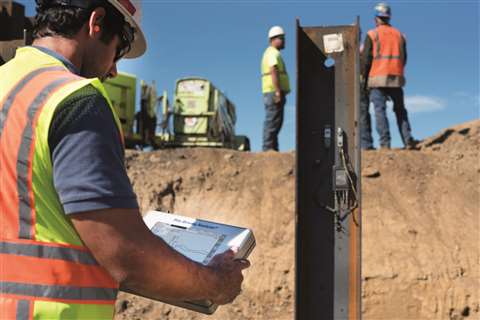 As well as the SHAPE system, Pile Dynamics also offers the Pile Driving Analyser for foundations analysis
PDI's senior engineer, Ryan Allin, said, "Connectivity and the Internet of Things (IoT) will continue to move the deep foundations industry forward. The ability to quality control a test in real time, not only speeds up the projects and reduces overall costs, but also allows corrective action to take place quicker. Time demands for projects dictates the need for reliable and quick quality control methods, allowing for safe foundations and timely project scopes."
SHAPE's drilling stem advancement rate was said by the company to be approximately one foot per second, offering 360° 2D and 3D profile views. It is a wireless device that can be operated on site or remotely using PDI's SiteLink technology.
Another company that helps to improve conditions for infrastructure by looking below the surface is Seequent, specialists in visual data science software. The company has developed Leapfrog Works, designed to improve understanding, visualisation and communication of sub-surface conditions and the interaction with infrastructure. The 3D subsurface modelling solution was created for the civil engineering and environmental industries, to better connect the geology to the engineering design and support the cultural shift towards digitalisation and collaborative working.
Recent projects in which Seequent's Leapfrog Works has been used include a tunnelling project in Auckland – New Zealand's largest transport infrastructure project; a groundwater project in Bentiu, South Sudan; and a gold mining exploration project in Nevada, US.