Further eco boost from Spierings
By Andy Brown24 February 2020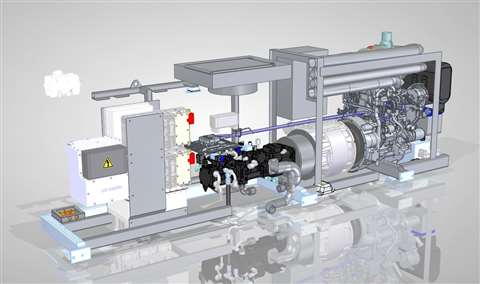 Dutch crane manufacturer Spierings is expanding its electric and hybrid power options for its hydraulic mobile folding tower range with the addition of two further models.
The new four and six axle models with hybrid power systems for crane operation will be larger than the existing three axle SK487-AT3 City Boy, claimed by its manufacturer as the world's first electric wheeled mobile folding construction crane.
The new SK597-AT4 and SK1265-AT6 hybrids will have the option of using electricity for crane operation. There are two main ways of powering the hydraulic pumps to run the crane. In full electric mode the crane runs from a 32 Amp mains electricity supply in conjunction with an onboard battery pack in the upper works of the crane.
The battery provides extra power to the electric motor driving the hydraulic pumps when needed at 'peak moments' of a lifting cycle. Spierings said peak moments are never more than 30 % of the time a crane is operating so, for the remaining 70 % or more, mains electricity from the 32 Amp supply is available to charge the battery. It means the crane runs quietly with zero engine exhaust emission at the point of use.
In hybrid mode, where no mains grid connection is available, the crane runs from the small diesel engine in the upper works. As with the electric mode, at those peak moments when more power is needed, it is provided by the battery pack. At other times, excess power from the engine is used to recharge the battery.
For moving the new hybrid cranes around on the road the carrier is powered more conventionally by a separate DAF diesel engine. This is different from the existing SK487-AT3 City Boy model mentioned above, which has sufficient battery power for at least 30 km of road range, the company said.
On the City Boy there are three ways to power the crane, two of which are fully electric. One is from the battery alone, which will give a minimum of four hours from a full charge. The other is from a 16 Amp plug-in mains power supply together with the battery pack. Thirdly, for sites where no electricity is available, power is from the onboard Stage V diesel generator.