Galabau's compact showcase
By Helen Wright12 September 2016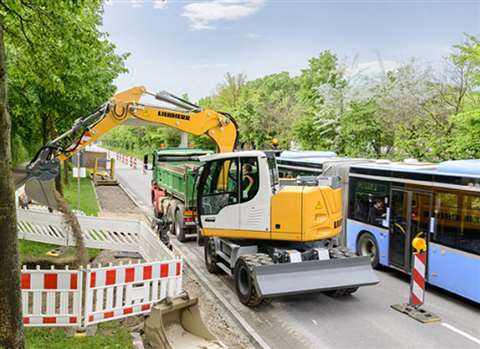 German gardening, landscaping and green design exhibition Galabau is a platform for manufacturers to showcase their latest compact equipment.
Galabau runs from 14-17 September at the Nuremberg Exhibition Centre. Targeted at business involved in the design, construction and maintenance of urban, green and open spaces, the last Galabau, held in 2014, attracted 1320 exhibitiors and 66500 visitors.
Liebherr is using the show to launch its new A910 wheeled excavator with Stage IV/Tier 5 Final-compliant diesel engine.

Designed for construction sites with restricted dimensions, Liebherr said this 12 tonne class operating machine was designed for construction sites with restricted dimensions such as horticulture and landscaping, as well as in inner city areas.
Liebherr also has its R 914 Compact crawler excavator and the PR 716 crawler tractor, as well as the two wheel loaders L 506 Compact and L 507 Stereo on show.
And Yanmar Construction Equipment Europe is presenting its new ViO57-6 mini excavator for the first time – a 5.5 tonne zero tail-swing machine with a very tight turning radius.
Yanmar is also showcasing an overview of its product portfolio of mini and compact excavators, carriers and wheel loaders.
Meanwhile, Kobelco Construction Machinery Europe is showcasing its mini excavators at the event, including its latest 4 tonne class SK45SRX-6 model, together with a range of other minis.
Mini excavators, a telescopic loader and compact wheeled and tracked loaders from Bobcat are also on show, including the E10 electric mini excavator, which is showing what it can do in the demo area.
With an operating weight of around one tonne, the E10 is a fully-functional prototype entirely electrically driven mini-excavator.
Elsewhere on the product spectrum, Kaeser Mobilair portable compressors are on show, including the M13, M20 PE, M27 PE and M31 PE models.
For instance, the M13 drives compressed air hammers, drills, saws, screwdrivers and soil displacement hammers at a flow rate of 1.2m³ of compressed air per minute at 7 bar pressure. And there are also 10, 12 and 13 bar versions for jobs requiring higher pressures.