Gap's new specialist division
By Thomas Allen04 December 2019
UK-based rental company Gap Hire Solutions has expanded its portfolio of specialist divisions with the addition of a Trenching and Shoring division.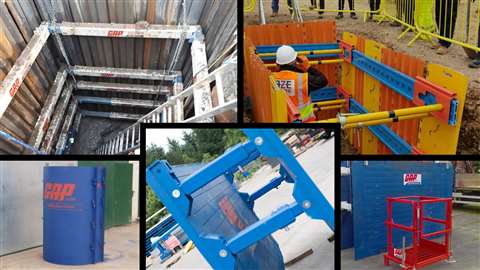 In April 2018, Gap acquired Scottish-based trenching and shoring company MV Trench Support. This significantly extended Gap's fleet of products and added a wealth of trenching and shoring experience to the company.
The decision has now been taken to split out Gap's Trenching and Shoring from its 10-year-old Non-Mechanical division, of which is was a sub-division.
Trenching and Shoring is now the ninth of Gap's specialist divisions, joining Plant, Tools, Non-Mechanical, Lifting and TIC (Test, Inspect and Certify), Survey and Safety, Welfare, Events and Vehicle Hire.
The new division's product range includes trench boxes, drag boxes, backhoe boxes, trench sheets, waler systems and edge protection.
All the groundworks equipment is supplied with user guides and technical information.
The company also has a wide range of products available for rental, including chain slings, manhole lifters, ladders, lifting pins, manhole chain clamps and counterbalanced davit systems.
In addition, Gap is the sole distributor of EZE Shoring equipment in the UK. It is made up of just five different components and has no pins, clips, slings, pumps or hydraulics, for greater simplicity.