Genie expands hybrid range
By Euan Youdale03 April 2019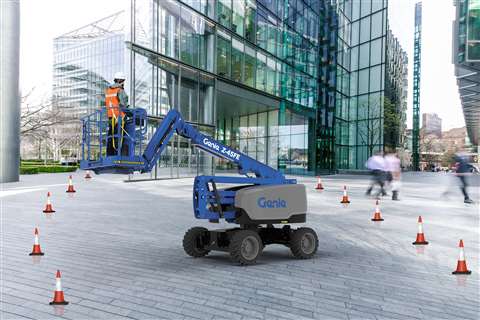 Visitors are getting a preview of the new Genie Z-45 FE hybrid articulating boom lift at Bauma.
Designed using the same hybrid technology as its higher lifting Genie Z-60 FE (formerly Z-60/37 FE) sister model, the new Genie Z-45 FE boom lift offers a maximum working height of 15.92m (51 ft 8 in) a maximum horizontal outreach of 6.94m (22 ft 9 in), a maximum up-and-over reach of 7.50 m (24 ft 7 in) and 300kg (660 lb) maximum lift capacity. See the April issue of AI, published today, for an exclusive picture of the machine.
The Z-45 FE boom lift is designed to combine the power and performance of typical 4WD diesel machines, with the quiet, clean efficiency of 100% electric powered units. In all-electric mode, it provides the ability to work a full shift on a single battery charge. In hybrid mode, it offers more than a week of run time on a single tank of diesel.
And like its higher lifting sister model, in addition to a high-efficiency AC drive system, the new Genie Z-45FE boom lift also combines the benefits of a full-time active oscillating axle system that maintains traction on rough terrain. Its 1.52 m (5 ft) articulating jib with a 135° vertical rotation provides the ability to position workers accurately.
In hybrid mode, the Z-45 FE boom lift uses its environmentally friendly Stage V/Tier 5 engine-powered generator to maintain the state of charge of the batteries. The hybrid system also allows the machine to recover energy generated when braking or descending inclines, which is in turn used to recharge its batteries.
Requiring 30% less fuel than typical 36.5 kW (49 hp) diesel machines, it also offers the advantage of saving €25 Euros ($28) of fuel a week and the ability to run for a full shift on an overnight battery charge, says the company.