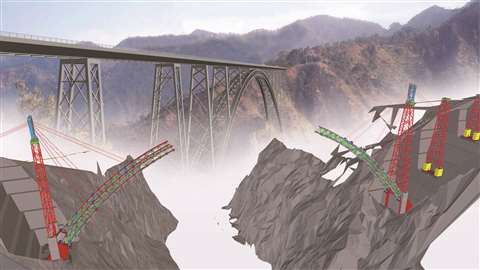 BIM images of the Chenab Bridge – a railway steel and concrete arch bridge under construction in the Reasi district of Jammu and Kashmir in India – using Tekla BIMsight
Building Information Modelling (BIM) exists to help all those involved in a construction project to share information. At Level 1 this is done simply by sharing designs and data between all the different parties, but at Level 2 this includes 3D design.
With BIM Level 2, users can use software systems to look at the building from all angles, zooming in on certain areas, checking measurements as well as finding any clash detection. By working in a composite environment, users should be able to highlight issues more easily and communicate those issues to everyone involved.
Government mandates promote and nurture the adoption of BIM Level 2 with countries such as Finland, Norway and the UK already on board. April 2017 saw the deadline for the UK – now all government-led construction projects will only be offered to companies using BIM Level 2. This will have a big influence on the private sector in adopting BIM.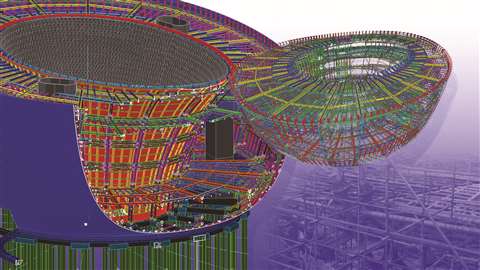 The Finland Pavilion for Shanghai World Expo 2010 shown in Tekla BIMsight
However, a large proportion of the construction industry is still reluctant to use this software. The 2017 BIM survey results by the UK's Chartered Institute of Building (CIOB) reveal that BIM's progress is unlikely to be client-driven. Almost half (49%) of the respondents said they did not make BIM a requirement on projects, though teams were free to use it. The survey also showed that the most popular perceived benefit of BIM was greater collaboration.
In the UK, the second deadline for BIM Level 2 will be 3 October 2017, when government departments will "electronically validate BIM information delivered from the supply chain."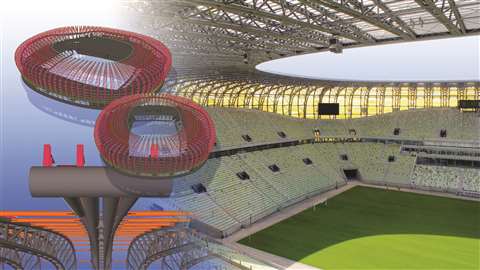 An intricate view using Tekla BIM sight of the Stadion Energa Gda´nsk – a football stadium in Gda´nsk, Poland
BIM technology
US-based Trimble has created Tekla BIMsight, described as the "easiest to use construction collaboration software".
Ragnar Wessman, director of product architecture – Trimble engineering and construction sector, says, "The core of BIM is all about the machine-readable building information that can be used to benefit the workflow of either an individual or any stakeholder in a project. Sharing information is an essential part of that strategy, not just in the design phase, but all the way down to fabrication and construction as that is the only way to really improve the industry right now."
In 2012, Trimble acquired the Finnish software firm Tekla. With the Tekla model, sharing functionality has enabled global project teams to rethink how they streamline their tasks. The company says that "consistency of information and better collaboration can improve quality and productivity of construction."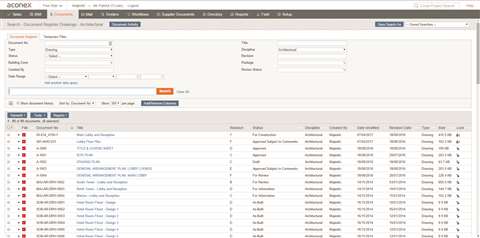 Speaking about the UK government mandate, Wessman says, "The best thing is that the industry is, albeit slowly, moving to an understanding that data is the most important part of the process, not just creating pretty visual models. The UK is thereby starting to value the data-rich Tekla models."
Although the mandate is a positive thing for the awareness and uptake of Level 2, Trimble is still realistic with where the industry is with this technology.
He says, "The construction industry definitely does not have level 2 BIM fully implemented across the board. Many of the surveys published seem to promote the view of BIM being embedded, but the latest CIOB survey seems to have a more realistic view.
"At the same time, there are examples of excellence across the supply chain within businesses who understand the importance and benefit of sharing data."
A detailed view of a building using Connect BIM by Aconex
Australia-based Aconex offers a secure common data environment (CDE) named Connected BIM, that connects all project teams and project data according to PAS 1192 requirements – part of the eight pillars of BIM Level 2.
Steve Cooper, general manager UK and Ireland at Aconex, says, "Aconex's Connected BIM capability removes the siloes between the design, construction and facility management teams by centralising project, and asset, data in one place accessible by the whole supply chain without installation of software or additional downloads.
"It is our belief that CDE's must be simple and reasonably intuitive to gain true adoption across larger user communities."
Key features of this software include implementation of BS1192 processes, the ability to view and navigate models over different platforms (desktop, mobile device, etc.), and a solid audit trail across transactions and access history.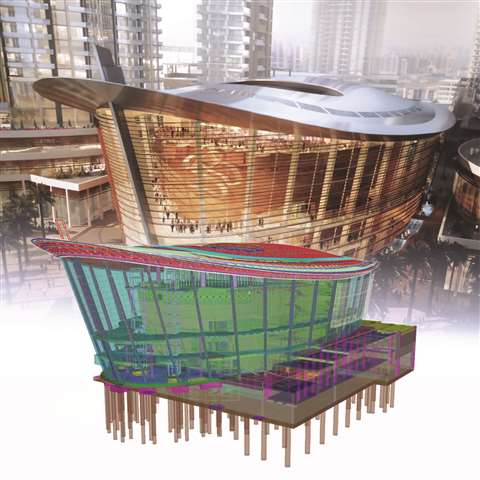 Cooper says that the change in attitude towards BIM initiatives has quickly changed in the UK, compared with findings by the company two years ago. He says, "Whilst BIM now seems to have been around for many years, the reality is that we are still all in the very early stages of what's possible. Standards are still being defined, technologies are still in the main tactical and success/failure case studies are starting to become available. The great news is that there's much time ahead for new innovations to make a difference."
US-based software solutions company Bentley Systems recently showcased new offerings for its ContextCapture system, and the ProjectWise ContextCapture connected data environment at the SPAR 3D Expo and Conference in Houston, Texas.
ContextCapture – for reality modelling that increases joint opportunities in surveying and engineering – now includes cloud processing services, a mobile app and photo planning for Bentley's applications.
ContextShare adds "breakthrough performance" in securely streaming reality meshes and their inputs, so users can share full-scale, engineering-ready datasets across a distributed team, whether in the field or in the office, the company says.
Another new application is Navigator Web, that delivers "high-performance streaming" of very large reality meshes through the browser to desktop or mobile devices.
Greg Bentley, CEO of Bentley Systems, says, "It is gratifying to report that reality modelling has 'gone mainstream' globally, supporting projects and assets of every domain and scale in 'going digital'. Our ContextCapture and ProjectWise ContextShare announcements complete the reach, in my view, for reality modelling's fidelity, accessibility, scalability, and shareability. In the coming year, our priority at Bentley Systems is to help engineers and surveyors take full advantage of this opportunity to broaden the scope and value of their work in 'going digital'."
How much will BIM save?
The cost savings with BIM are said to be considerable, as noted by the UK government's targets for construction in 2025 – overall project cost savings on the level of one third and project times split in half. BIM is seen as the driver to reaching these targets.
Wessman at Trimble says, "The whole purpose of BIM is that cost savings apply throughout the whole process, so each individual or stakeholder will see different cost savings to their own business, but the main gain often goes to the client or owner. Naturally, avoiding errors and rework, made possible by accurate constructible models, allows a saving on man-hours, but also a saving on construction materials."
The benefits of BIM are not only limited to cost savings. Cooper at Aconex explains, "Planning risks can decline, overall project quality can rise, health and safety risks can be reduced, and enhanced transparency and monitoring can also lead to better adherence to schedules and costs across the entire construction procedure."
BIM technology advancements also save time, which, in turn, saves money. An example of this comes from two big players in the construction software industry – Applied Software and Autodesk.
Recently, Applied Software announced that it had won its proposal to custom-develop an add-on for Autodesk's BIM 360 Docs. This happened through a 'BIM 360 TechBox' competition to build tools on the BIM 360 platform that solve business challenges specific to the construction industry. The new software tool named '360Sync for BIM 360 Docs' is anticipated to be available as soon as May 2017.
Applied Software president Richard Burroughs added, "Construction projects require an enormous amount of document and file management. While cloud-based services such as BIM 360 Docs have emerged as a great way to make these documents available on-demand, there is a challenge in how to keep the files hosted on these services up-to-date with the latest available version. 360Sync for BIM 360 Docs will simplify this issue, making it much easier to create and maintain a 'single version of the truth'."

BIM uptake
With regards to the uptake of BIM increasing, albeit slightly slower than hoped, Wessman at Trimble says, "the attitude 'it works so why change' is losing ground". He adds, "The real benefits of BIM come when the constructible model as an information source is used throughout the project milestones – that is when the model in the office is the model you actually build.
"The technology exists and is proven, the forerunners are already reaping great benefits and savings out of implementing BIM throughout the construction lifecycle."
For Aconex, Europe is the most demanding market in terms of BIM uptake, largely due to the rapid momentum behind government adoptions. The company describes this continent as "sophisticated" in its understanding of the benefits across the project/asset lifecycle and the value of an integrated supply chain. Singapore and South Korea are also similarly receptive to BIM.
"North America still perceives BIM to be a design-based process," says Cooper. "The focus is very much on modelling, including a positive role play between the general contractor and the sub-consultants. while BIM Collaboration and BIM FM seems to be still in the early days.
"The Middle East and Asia have many government projects coming through the pipeline impacted by an increasing BIM adoption mandate. Strategically, many EPCs (Engineering, Procurement, Construction) are also adopting BIM as part of their innovation programs."
There is also a notable increase in Australia and New Zealand demand with a government mandate in preparation, says Aconex.
Cooper concludes, "Over time, we expect the majority of markets to pick up BIM on the back of the internationalisation of a number of national BIM standards. Security and asset management are increasingly important success factors of BIM adoption as highlighted in the updated PAS1192 standard, soon to become an ISO standard (ISO 19650)."