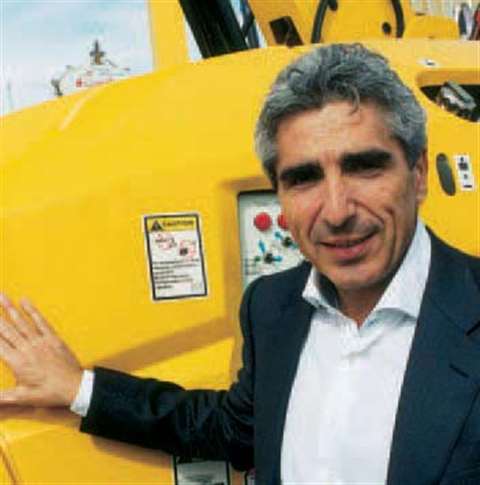 Segundo Fernandez, PinguelHaulotte's new commercial director, may not speak English, but he has a gift for languages, speaking Spanish, Catalan, Portuguese, French and Italian. It is an ability that he will use to its full as he expands his horizons beyond the Spanish market in his new role for Haulotte.
Promoted to the position at the start of the year following the retirement of Yves Boucly, Haulotte will no doubt be hoping that Mr Fernandez will be as successful on the world stage as he has been in his native Spain, where his period in charge has seen the manufacturer win what Mr Fernandez says is an 80% share of the annual 3000-3500 units self-propelled market.
Mr Fernandez will no doubt prove to be an energetic presence on the access scene, and not scared to make bold claims. On Spain, for example, where others see only a gradual decline in the market from its recent heights, Mr Fernandez remains bullish, telling AI through an interpreter that the Spanish access rental fleet is still under 20000 units-of which 6000 are ageing-and has the capacity to sustain an additional 9000 or 10000 machines. He also says that any decline in the market will be gradual, with Spain's still sizeable infrastructure development plans keeping demand for access equipment at a good level.
Spain has been the starting point for his career at Haulotte, and his success there has given him a view on how the company will succeed elsewhere. "My feeling is that we must operate on traditional values-good customer service, direct contacts with customers, like in Spain, where we have 65 people employed." The company's US team, for example, has just been expanded (see box story) and a further two depots are planned for the country later this year.
Just as important will be additional products, and the next 18 months will see the company launch a wide range of new equipment. "We want to fight with the same weapons", he Segundo Fernandez, pictured at the ConExpo show in Las Vegas.
Says. The first results of this will be the launch at the APEX exhibition in September of a line of three truck mounted platforms in the 16 to 23 m working height range, and then at the end of the year 41 m and 43 m self-propelled booms.
The truck mounts will comprise 16 m and 20 m telescopic models and a 23 m articulating platform. Mr Fernandez also says the company wants to introduce truck mounted platforms with working heights of up to 60 m, with acquisitions of other manufacturers being one option under consideration. The new trucks are Haulotte's own development and not related to the badged machines shown by the company at the Bauma exhibition last year.
The expansion of the product line will also encompass non-access products, and Mr Fernandez says this will mean a line of 12 different product types by 2007, going beyond the AWPs, telehandlers, truck mounts and pick and carry cranes that are already in production.
Many in the access business, of course will be more interested in Haulotte's plans for its rental businesses, having acquired Lev in France in late 2003 and then UK Rentals last year.
Mr Fernandez says Haulotte is not in the rental business for its own sake, but will use re-rentals to help develop opportunities in developing markets where rental businesses find it difficult to raise investment capital. (He draws a comparison here with JLG's re-rental joint venture with Riwal of the Netherlands). Countries in this category could include Brazil, China and some eastern European nations. He said there was no prospect, for example, of Haulotte buying a rental company in Spain.
"It is normal to find solutions in countries where it is difficult for customers to obtain finance", says Mr Fernandez.
Nevertheless, owning Lev in France has brought some benefits. Levs large fleet of truck-mounted platforms has allowed the manufacturer to gain an understanding of the needs of end-users and rental companies.
He also says that fears among other rental companies in the UK and France about Haulotte's involvement in rental have not been realised. "When we became a rental owner, all the rental companies were afraid that we would decrease the prices. It was the opposite. Now they believe the strategy, and trust us again" Mr Fernandez mentions a 190 unit order from Loxam of France in December to back up his case.
What is clear is that Haulotte's strategy is not to sit around and wait for the market to grow. It will work hard at generating demand, and planting rental seeds in immature markets. What is also sure is that Segundo Fernandez' linguistic skills will come in for some heavy use - and he says he'll be speaking English in six months' time.