Global projects recognised at awards ceremony
By Andy Brown19 November 2019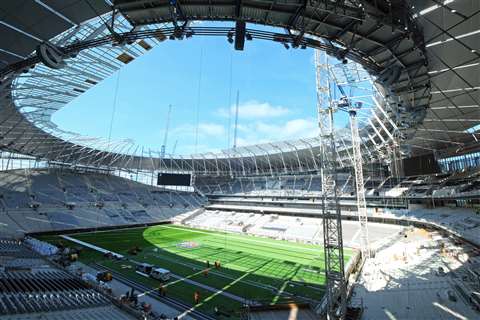 The Institution of Structural Engineers has announced the winners of The Structural Awards 2019 from a shortlist of 49 global projects in 12 categories.
A diverse range of structures was recognised across 12 categories; from the world's tallest statue in India to the complex exterior walls of V&A Dundee in Scotland. The winning projects are said to showcase cutting edge examples of innovative engineering solutions.
The new Tottenham Hotspur Stadium, UK, received the Supreme Award for Structural Engineering Excellence. The coveted accolade is presented to the year's finest example of structural engineering design.
The judging panel were unanimous in their view about the cable-net roof structure, which is a vital feature of this redevelopment project.
The judges were also impressed by the ingenuity shown by the structural designers in dealing with very challenging constraints and requirements. Structural innovation is evident in the sliding pitch, vast open concourses and an almost impossibly light roof.
Chair of the judges, Professor Tim Ibell, said, "Many congratulations to all the winners and thanks to those who entered the awards. Each year the quality of the projects keeps getting better. This year we saw some excellent examples of the exploitation of digital tools, geometry, choice of materials to improve and enhance structural behaviour and most importantly, the carbon footprint."
A selected list of the winning projects is below:
The Award for Tall or Slender Structures:
Project: CITIC Tower, Beijing, China
Engineer: Arup
The Award for Structures in Extreme Conditions
Project: Tūranga, Christchurch, New Zealand
Engineer: Lewis Bradford Consulting Engineers
The Award for Construction Innovation
Project: Morpheus Hotel, Macau, China
Engineer: BuroHappold Engineering
The Award for Sustainability
Project: La Reference, Ganthier, Haiti
Engineer: Eckersley O'Callaghan
The Award for Pedestrian Bridges
Project: Tanxishan Glass Landscape Pedestrian Bridge, Zibo, China
Engineer: Tongji Architectural Design (Group) Co. Ltd
The Supreme Award for Structural Engineering Excellence
Project: New Tottenham Hotspur stadium
Engineer: BuroHappold Engineering and Schlaich Bergermann Partners