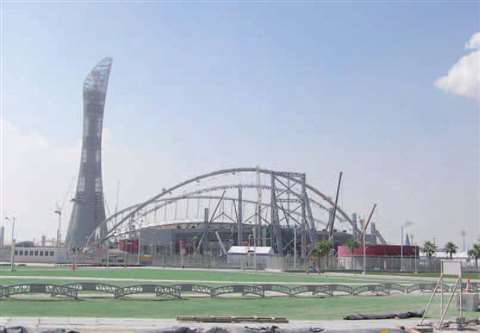 While Qatar has spent huge sums on revamping its existing sports facilities, such as the Khalifa Stadium, and constructing new arenas, like the 73000 m2 ASPIRE, the largest multi-purpose indoor sports dome in the world, improving more mundane infrastructure - water, power, sewage and road networks - has also been a priority.
However, if its ambition to host the 2016 Olympics is to be realised continuing this level of investment will have to continue for some time. A recent study by the British Embassy in Qatar's Commercial Section, Qatar Infrastructure Projects: Five-year Plan, said the country is looking to invest a further QAR 31 billion (US$ 8.5 billion) between now and 2010 on infrastructure expansion - QAR 15.6 billion (US$ 4.3 billion) on roads, QAR 8.1 billion (US$ 2.2 billion) on sewage, and QAR 7.4 billion (US$ 2 billion) on buildings.
Alan Lord, area director, Hyder Consulting, told iC, "While there is huge growth in tower construction, over 180 are planned in the next five years for the West Bay area alone, the infrastructure sector holds great potential.
"With huge projects such as Lusail, Education City, the Pearl and Al Waab City all under construction, the first two of which we are working on, future demand for utility and cohesive transport networks will be massive," said Mr Lord.
Active in Qatar for 30 years, much of Hyder's work has come via Ashghal, the public works authority. Work either in the planning stage, under construction or recently finished by the company in the sewage sector, for example, includes sewage treatment works in Doha South and Doha West and the Doha North treated sewage effluent pumping station, itself part of the larger Doha North sewage plant.
Jaber Ali Rashid Al-Mohannadi, director of drainage affairs, told iC that Ashghal is planning to finish all major work by 2010, when it expects to have connected over 90% of households to the network. Completing the work however, is not without its problems.
"The population explosion we're currently experiencing is the major pressure," said Mr Al-Mohannadi. "Downtown Doha has changed dramatically from a low to very high density area. We've gone from single or two storey structures to buildings over 20 storeys, so the present network just can't cope."
With Qatar's population currently hovering around 900000 (up from 744000 in 2004) Mr Al-Mohannadi said planned infrastructure expansion had predicted the population would hit the 1 million mark by 2030. "It now looks like reaching that milestone by 2015 or even earlier, so we're constantly bringing forward our planning and investment to cope with demand," he said.
Such enormous expansion means infrastructure requirements are changing all the time. "There's lots of retro fitting currently underway in the roads sector," said Mr Lord. "The city needs new bridges and interchanges. Roundabouts need changing to traffic light junctions, flyovers or underpasses, for example, while the public transport system also needs heavy investment."
At present, said Mr Lord, studies are underway into a rail system that could link the new developments such as Lusail to Doha and possibly to the planned Bahrain-Qatar causeway. "Both countries want it and there's a possibility it could contain a rail link. Certainly several of the larger government backed developers are believed to be looking to make this happen. It would also open the possibility of a regional rail network becoming a reality," said Mr Lord.
Shortages
While a rail link remains a possibility Ashghal, is currently investing heavily in roads, and much of the expansion is being handled by a new wave of foreign contractors. Croatia's Konstruktor Engineering, Greece's Terma working with local contractor Qatar Building Company, Australia's Gulf Leighton and Germany's Bilfinger + Berger have all secured work recently.
However, the rise in work has presented its own problems. Material shortages - the country ran out of cement earlier this year - price fluctuations and a shortage of glass for façades have all hit construction schedules in recent months. Asphalt is also becoming scarce.
Another problem is competent local contractors. With Ashghal demanding 30% of any contract over QAR 200 million (US$ 55 million) awarded to a foreign contractor be given to local sub-contractors, the market is beginning to feel the strain. One contractor iC spoke to said he was being "held to ransom" over the pricing of work.
Securing qualified staff is also a problem. Hyder's Mr Lord told iC that salaries may be rising by +10% per annum, but rents are going up even faster. School places are also an issue. "For many of those looking to work here, getting their kids into school is an issue," said Mr Lord. While new schools are planned the waiting list at some of the more popular has hit the 850 mark.
The amount of work available in Europe following expansion of the European Union in May 2004, a strong Australian economy and the weakness of the US dollar, which is forcing many employed from the US, and paid in US$, to return there, are also having an effect on the supply of professionals. Filling this shortfall are engineers from the Philippines, Yemen, Ukraine, Syria, Morocco and India. However, Education City project architect Jason Fournier, told iC this has presented its own set of problems. "Until quite recently many of these countries had weak economies, which meant many of the people coming here didn't have the kind of experience necessary to work in such a dynamic market as Qatar.
"Indeed, one of the most difficult things is getting and keeping a qualified workforce. People stay two or three years and then move on, which means loosing your knowledge base. A project is only as good as the team, and with new personnel coming in all the time the learning curve here is a vertical wall," said Mr Fournier.
Market differentiators
While the need for infrastructure is pressing, such concerns haven't stopped Qatar's developers from pushing ahead with some spectacular projects. However, while other countries may be chasing the tourist dollar, Qatar sees itself as a future regional centre of culture, education, sports and commerce.
Under construction since June 2005 and originally scheduled for completion in April 2008, Qatar Foundation's Education City, for example, will host many of the world's leading universities. The total area of the project is now over 1000 ha (it was originally 500 ha), partitioned into eleven zones, including an Olympic size equestrian centre.
As the project has grown the completion date has shifted to sometime between 2010 and 2015 - "It's that vague," said Neels Venter, Kuwait Engineering Organisation's senior resident engineer. The value of projects currently under construction, said Mr Venter, has also risen, from QAR 1 to 2 billion (US$ 275 to 550 million).
Students will be drawn from Qatar, then regionally and finally internationally. According to Mr Fournier the idea is to provide the country with the means to position itself as a centre of excellence in "future technologies".
Elsewhere, the QAR 1.1 billion (US$ 304 million) Museum of Islamic Art (see this month's site report) aims to be a centre of Islamic learning and art appreciation. Situated at the top of Doha's 7.5 km corniche, the museum will eventually be joined by several others, including the region's first Guggenheim Museum.
Also under construction is the 35 km2 Lusail City. The QAR 18 billion (US$ 5 billion) project's ten districts, spread out over 8 km of coastline, are expected to be complete in 10 to 15 years and will be home to 200000 people.
John William Ward, executive director of development, Qatari Diar, told iC Lusail is "an essential socio-economic component supporting Qatar's economic growth", which, he added "will act as a catalyst attracting an estimated QAR 45 billion (US$ 12.4 billion) of inbound investments."
Mr Ward said the project will focus on providing a "high quality life style environment leveraging on Qatar's unique offerings with sustainability as its core value. We want to create one of the best living environment in the region, a fully socially integrated and animated city where people will be attracted to work, and will stay to enjoy life and play."
Various standards of living will therefore be available throughout the development. These include, "downtown living" in the Marina district, where an underground light rail system is planned, to the low-density villas districts in the north of the city.
Key to the project's success, said Mr Ward, is that it will "blend the local culture and values with modern amenities and future adaptability, while providing the most modern of schools, medical, sporting and luxury living standards possible."
And this is the key to Qatar's future development. The Qatar brand is definitely aimed at the luxury end of the market.
Outlook
Qatar is working hard to position itself as a cultural and financial regional hub, rather than the Middle East's answer to a cheap package holiday destination. With proven oil reserves of 16 billion barrels and 25.8 trillion m3 of natural gas it should have no difficulty financing its current construction boom for some time to come.
What may be a problem is securing the materials and qualified professionals needed to make its dreams a reality.