Growth continues at Haulotte
By Euan Youdale11 September 2018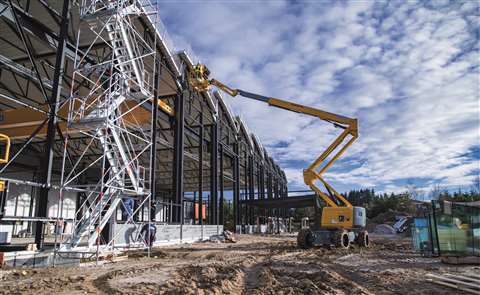 Haulotte Group posted an increase in sales of 13%, to €289.9 million, in the first half of 2018, compared to €264.6 million in the same period last year.
Europe continued the positive trend of previous periods with a 14% increase in sales, driven by strong demand from major rental companies in most European markets.
Sales in Asia Pacific grew 12% thanks to the accelerating market China. In Latin America, the recovery, which started in 2017, continued across all markets, said the company, with the exception of Argentina, resulting in sales increase of 17% across the region. In North America, sales continued to grow, by 10%, driven by aerial work platforms business, which were up 23% in the continent.
Across the company segments, equipment sales increased by 15% over the half year €252.3 million. Services grew by 2% to €24.7 million, while rental sales decreased by 13% to €12.9 million. During the half year, Haulotte sold its Italian rental subsidiary No.Ve. srl (Nove) to Loxam.
The company said current operating income, excluding exchange rates, was down 11%. "This was mainly the result of a less favourable customer and geographical mix than the previous period, higher component prices and growth in fixed costs related to implementation of the Group's new strategic plan," said the company.
On the other hand, the group's operating income saw strong growth at € 26.7 million, up 53%, compared to 2017, driven by the sale of the rental business in Italy and a lower level of risk provisions.
Consolidated net profit rose sharply to €19.1 million, 6.6% of sales, due to growth in operating income and a more favourable exchange rates, particularly for the US dollar.
The group's net debt increased by €5.4 million in the first half, mainly due to the increase in working capital requirements related to business growth.
Haulotte Group said it expected more than 10% revenue growth in 2018 and expects to be able to post revenue growth above The Group plans to maintain its current operating income.