Growth in Chinese access exceeds all expectations
Sales of mobile aerial work platforms in China exceeded 40,000 units last year, according to a new report from Off-Highway Research. At almost 60%, the compound annual growth rate (CAGR) in the segment has exceeded all expectations, with sales rising from just 6,920 machines as recently as 2014.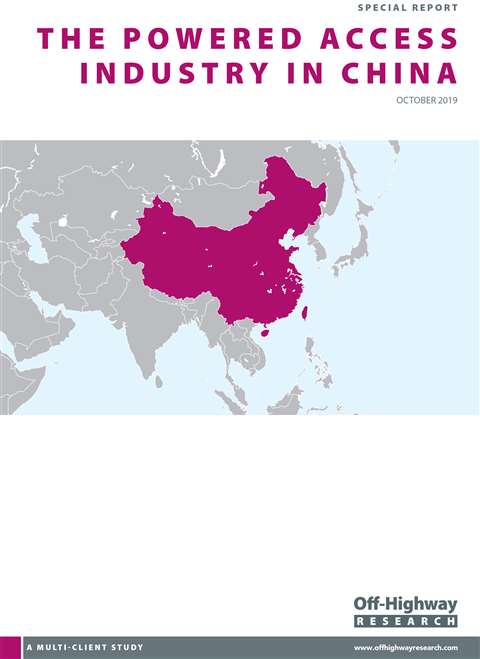 Off-Highway Research's new report, The powered access industry in China said, "The growth in rental investment has played a pivotal role in developing demand for access platforms. With the evident saturation of demand in the traditional equipment market, many distributors have been encouraged to invest in new business sectors, and there is the general belief that access platform rental offers better returns and a clearer cost structure without the need to hire operators."
This booming demand has also seen new suppliers enter the market, and Off-Highway Research believes there are now more than 50 OEMs active in China. The country is also now established as an important manufacturing hub for both indigenous and international suppliers, with production of MEWPs exceeding 100,000 machines in 2018.
Demand for access platforms in China is expected to continue growing for the foreseeable future, albeit at slightly slower rates than have been seen in recent years. However, Off-Highway Research believes the market could reach 125,000 platforms per year by 2023. The industry should also become more diverse, although the highest volume products are likely to remain electric scissor lifts.
The powered access industry in China is a 100-page report providing the most in-depth analysis of this fast growing market. It includes sections on sales volumes, sales by platform type and height, production, component sourcing, market shares, marketing and distribution strategies, pricing, machine populations, forecasts and details of machines available. There is also an extensive section of profiles on large Chinese rental companies, which are major buyers of access platforms.
Click here for more details and to buy a copy of the report.