GSR updates 3.5 tonne lifts
By Euan Youdale11 November 2020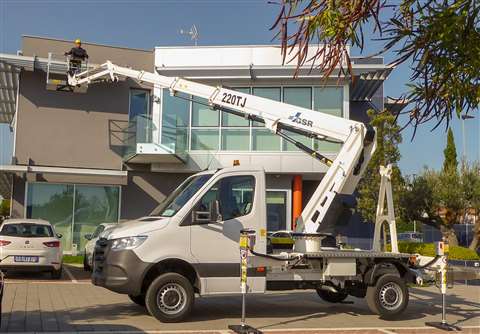 GSR has renewed its range of telescopic 3.5 tonne truck mounted platforms with two new 22m and 23m models.
The 21.9m working height B220TJ has a telescopic boom with end mounted basket and jib. Other features include an outreach up to 14m with 80kg in the basket, and an 10.6m outreach at the maximum 250kg capacity.
It is joined by the 22.8m working height B230T4 which has a straight telescopic boom with pedestal mounted basket and offers an outreach of 14.4m with 80kg in the basket. A 10m outreach, again, is available with the maximum 250kg outreach.
Both versions are mounted on the latest MB Sprinter, with 4 extendable stabilizers, enhanced horizontal outreach and automatic functions for ease of use, such as home function, automatic and variable jacking.
"Innovation, safety and operating economy remain the foundation of GSR's values and the high performance of these new models is not rocket science - it's about giving easier and reliable machines for your daily work," said a GSR spokesperson.