GT Trax choose Multi-One for installations
By Helen Wright01 September 2016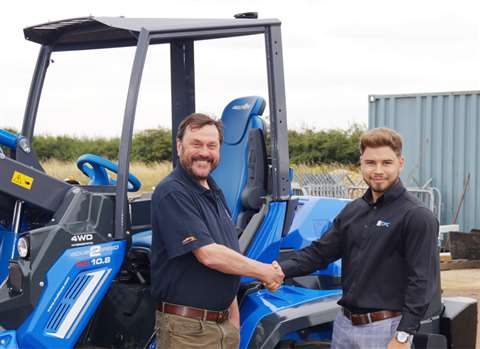 UK temporary roadway and walkway rental company GT Trax has taken delivery of a Multi-One 10.8 articulated loader, supplied by access machinery distributor Cumberland Platforms.
For some time, GT Trax said it had been actively seeking a machine that was able to handle and install its range of temporary roadway panels and in particular their new Power Track 40 system.
GT Trax said it first spied the Multi-One at the UK's Executive Hire Show in February, and made an enquiry which resulted in Cumberland Platforms arranging an onsite demonstration.
It said the performance of Multi-One subsequently proved that the machine had all the capabilities to safely lift and install both of their Power Tracks 20 and Power Tracks 40 roadway systems.
"Our range of temporary roadways has developed vastly over the past 10 years," explained GT Trax managing director, Trevor Tinker. "We needed a machine of this type to enhance our performance and efficiency on site.
"We did look at a couple of other machines but neither could match the exacting demands of our requirements. The Multi-One has excelled in all departments and it has a number of easily set up attachments, which means that most of our challenges on site can be overcome."
GT Trax has two temporary roadways systems - Power Track 20 and Power Tracks 40. Power Tracks 40 are manufactured from hardwearing, recycled HMPE plastic and measure 2440 x 3000 x 44mm, with each plate weighing 275kg. They incorporate an anti-slip profile which can be alternated for vehicle or foot traffic.
Lighter duty, Power Tracks 20 can be positioned by hand as each panel weighs just 57kg and measures 3m x 1m x 20mm, making them ideally suited for light traffic.