H&E opens new branch
By Lindsey Anderson14 November 2017
H&E Equipment Services Inc. opened a new branch in the Lynnwood, WA area, joining their neighboring branch in Kent, WA, for a total of 80 branches nationwide.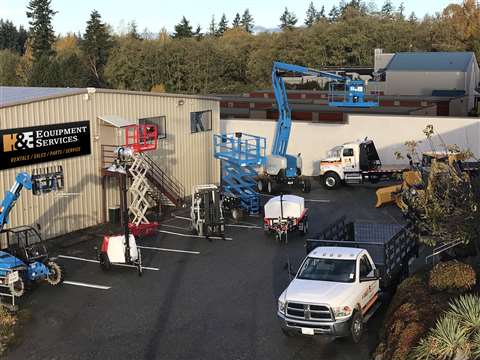 The new branch is located at 12406 Mukilteo Speedway, Mukilteo, WA and will provide full-service coverage to customers in northern King, Snohomish, Skagit, Whatcom, Island and San Juan counties. The 13,520 square foot facility sits on two acres with a fully-fenced and paved yard area, offices, parts warehouse, and a repair shop with two pull-through bays. The facility is capable of repairing a variety of general industrial and construction equipment.
The Lynnwood branch specializes in aerial lifts, telescopic forklifts, earthmoving, and general construction.
"With continued growth in construction and the industrial markets in Snohomish, King, Skagit, and Whatcom counties, we look to position our products and services more conveniently for customers with this new location," said James Lam, H&E Lynnwood branch manager. "Establishing a branch in the Lynnwood area gives us a tremendous opportunity to expand in the Seattle market and set ourselves apart from the competition by providing superior customer service, a new fleet of equipment, faster response times, industry knowledge, and reliability. We look forward to being a valued partner with customers and providing a full-service alternative in equipment rentals, sales, parts, and service, for many years to come."
In addition to equipment rentals, the facility provides new and used equipment sales, in-shop and mobile service, a comprehensive parts inventory, training, and other value-added services.