Haulotte introduces first U.S.-built boom lift
By Lindsey Anderson20 February 2020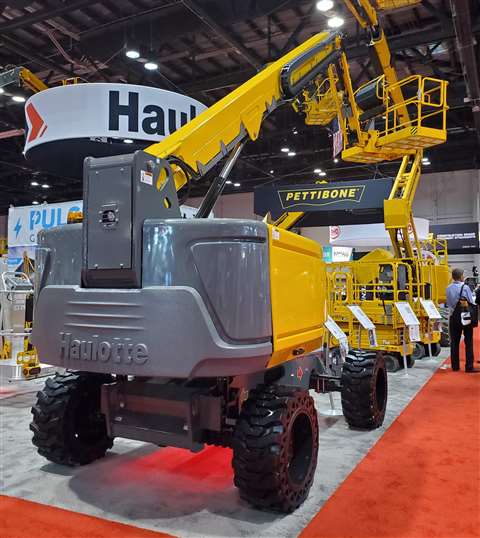 Haulotte has debuted its HT46 TJ PRO telescopic boom lift. The unit is the first boom lift designed and manufactured by Haulotte from its Archbold, OH plant. The HT46 TJ PRO features a platform height of 46 feet and horizontal outreach of 42 feet, 8 inches. The unit offers dual load capacities of 550 and 770 pounds, four-wheel drive and four-wheel steer, along with a 25 hp Kubota engine. The boom's updated design utilizing mechanical axles allows for a smaller engine while still maintaining the rough terrain performance of a larger engine, the company said.
The HT46 TJ PRO comes standard with Haulotte's suite of safety innovations including the Activ' Shield Bar, Activ' Lighting System, Stop Emission System, and Activ' Screen on-board diagnostic system.
Available starting in June, the HT46 TJ PRO replaces the company's 44-foot model and was a response to "market demand for this size," the company told ALH.
Visitors at ConExpo can see the new boom, plus much more, at Haulotte's stand (F6134.)