Haulotte N.A. hosts customer event
By Lindsey Anderson08 November 2018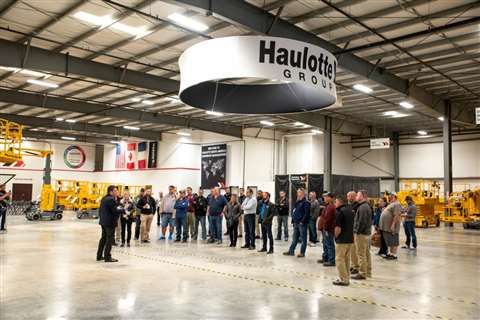 Haulotte North America held an Open Days 2018 event on Oct. 17-18 at its Virginia Beach, VA location for U.S. and Canadian customers. The event included education, hands-on machine demonstrations including an obstacle course and the opportunity to test drive the new HA61 LE PRO 100 percent electric architecture boom lift.
"We invited 40 customers from 20 companies to join us for two days at our U.S. headquarters, and we are very pleased with the outcome of the event," said Carlos Hernandez, executive managing director, Americas. "It's not just a chance to show our customers appreciation for their business, it's also a chance to get their feedback and strengthen our partnerships."
Alexandre Saubot, CEO, attended to share the company's the new business strategy which was originally unveiled at Intermat 2018 in Paris. The company said, "Looking to create a sustainable future, Haulotte will focus on creating strong business partnerships with customers and suppliers, build environmentally conscious products, and become a digital company."
One result of the company's strategy is its new PULSEO Generation family of machines, a range of electric, rough terrain work platforms designed to eliminate pollution and noise emissions.
Following Saubot's comments, the HA61 LE PRO from the PULSEO Generation was shown for the first time in North America.
"We worked closely with customers to understand how they would use a machine of this type on job sites," said Maxime Girard, product manager. "We also partnered with suppliers to create new technologies to meet those customer requirements."
The final day of the event gave participants a chance to drive and experience the HA61 LE PRO and the rest of the product range.
Giancarlo Bobbio, marketing director, commented, "This is the best way to experience a Haulotte machine. You can't get a feel for how comfortable and easy they are to operate standing next to one on a tradeshow floor.
"We will have six machines in North America dedicated to giving customers and operators the opportunity to experience the machine for themselves in their own work environment. This is an exciting technology leap for the industry and we are looking forward to sharing the benefits this new machine can bring to our customers' business."